The start of the new school year is approaching. If you want to have a fresh start, you can start with the change of your hairstyle. Do you desire to alter your appearance with a new hairstyle but refrain from making any dramatic changes, such as getting a perm or trim? You may get a wig to test out a new look, which is wonderful news. A human hair wig with bangs can radically transform the way you look, whether you already have bangs or have never worn one before. Bangs are excellent for adding distinctive flair and a youthful appearance. They are fantastic for women with a variety of face types as well.
Let's try out bangs now that it is almost time for school. When it comes to hairpiece styles with bangs, there are many alternatives. Because they are of such excellent quality, human hair wigs with bangs are a preferred option. Furthermore, wigs made of human hair have a very natural appearance.
These banged wigs are available with several various types of bangs, including blunt, feathery, asymmetric, straight, and side-bowed bangs. I want to provide to you today the best option for a wig with bangs.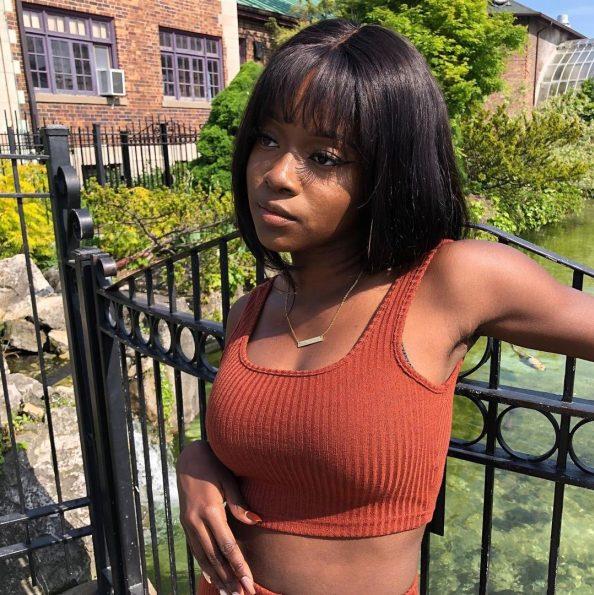 What are wigs with bangs?
Human hair wigs with bangs have been styled to imitate a popular hairdo that isn't generally worn by women. They can be produced in any style or color, and they are available in a wide range of designs and pricing points.
Because they offer a different appearance for ladies who want to wear a hairdo but don't want to commit to wearing a full wig, wigs with bangs are growing in popularity. Additionally, they provide the benefit of allowing you to switch up your hairdo without having to invest in a new wig each time you desire a new look.
While some consider wigs with bangs to be trashy, others believe them to be fashionable and avant-garde. Regardless of your viewpoint, it's crucial to keep in mind that everyone has a unique sense of style, so what may be fashionable on one person may not be on another.
Advantages of a wig with bangs.
1. Emphasize features.
To draw attention to features like your eyes and cheekbones, choose a wig with bangs. They have the ability to conceal flaws including pimples, wide foreheads, forehead wrinkles, uneven brows, and more. Anything on your forehead that you don't want others to see is hidden by the bangs.
2. Expand your styling choices.
There are endless ways to style your hair when you have bangs. For instance, you might wear a side-swept style one week and a full frontal tassel the following. Even your bangs can be pulled back with bobby pins if you want to keep your hair out of your face. Be imaginative right now.
3. Cover the hairline.
The ability of a wig with bangs to conceal the hairline is one of its key advantages. For first-time wig wearers, the hairline can be extremely difficult. The wig's fringe, however, gives it a more realistic appearance because the bangs hide the hairline without the need of lace. That's a wise decision, right?
4. Keep your natural hair in place.
A wig with bangs can prevent you from getting a haircut if you've always had a lengthy fringe and don't want to experiment with your genuine hair. You are still allowed to keep your natural hair as is while wearing a wig with bangs.
5. Refresh your appearance in general.
If you are unsure of whether bangs are the best choice for you, purchasing a wig with bangs is a simple method to alter your appearance. 100% human hair bangs offer even the most straightforward designs, such as ponytails, a highly attractive appearance. Try it in the cooler months.
6. Convenient upkeep.
To make the bangs appear tidy. To keep the bangs tidy, various actions must be taken. Nevertheless, bangs on human hair wigs are relatively simple to maintain and only need a little grooming each day. Use only a tiny bit of dry shampoo. Bangs only need to be styled after washing since wigs only require every two weeks of washing. You'll be able to save time on upkeep and styling as a result.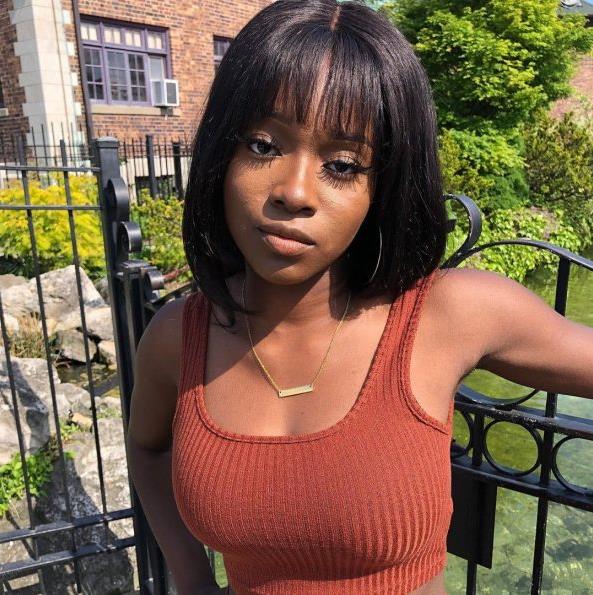 The most well-liked bangs with wig for back-to-school season.
1. 150% Density 13×4 straight hair short Bob wigs with bangs.
This adorable Bob wig is lightweight, breathable, and more comfortable to wear. They can be worn with any ensemble to provide a fashionable touch. These short human hair wigs are ideal for the shiny summer because they are often simpler to maintain than lengthy hair.
2. Glueless 5×5 13×4 lace wig with bangs real human hair wig.
For African-American ladies or black ladies, the long, straight wig with bangs works well. By wearing your hair in a low ponytail or sweeping your bangs aside like curtain bangs, you can vary the appearance. The natural black hue of this wig, which exudes a delicate sense, makes it even more unique.
Try donning wigs with bangs, which will not only shield our natural hair from chemical treatments and heat styling but also enable ladies to keep up with the most recent hairstyles. You can visit our shop to purchase premium wigs with bangs to enhance your appearance.