Short lace front wigs are ideal for women who like short hair. Undeniably, this is one of the best wigs in summer. The shorter the wig, the less heat accumulated, which can make us feel cool and breathable all day. In addition, short wigs are easier to shape and maintain, faster to dry and lower in price.
Today, we will guide you on how to find a good short wig.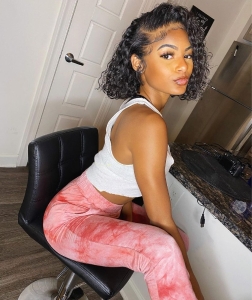 Questions to make a consideration when making a purchase
It's crucial to take into account your way of life while selecting the ideal short hair wig. You should reflect on these issues.
What motivates your desire for a short lace front wig?
When do you plan to use it?
Is it practical?
What do you typically do to take care of your hair?
Do you need to purchase any more wig maintenance supplies?
Do you prefer a wig that requires little upkeep and little styling, or do you want something that can be fashioned differently?
if you require a wig that you can run or exercise in while wearing comfortably.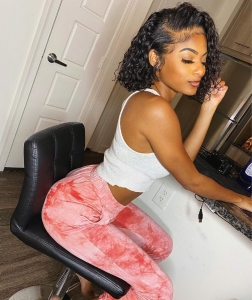 Four main aspects you need to take care
1. Artificial or human hair
As far as hair sources are concerned, there are two main types of wigs: artificial hair and human hair.
Synthetic lace front wigs are made of synthetic fibers. They are available in various styles and colors on the market. The price is low, the quality is poor, it can't be designed freely, it is easily damaged, and it can't be used for a long time.
The human hair wig is made of real human hair, which is the most realistic wig with the highest quality. It can be freely designed, high in quality, not easily damaged, easy to maintain and can be used for a long time.
We suggest that you choose a human hair wig, which is an excellent value for money.
2. Choosing the sealing structure
Cap structure is another factor that you should consider when buying a wig. According to different demands and prices, there are several cover construction schemes. You can choose between U-part, headband, full lace and lace front structure.
3. Short wig length problem
Before we start, let's find out the exact length of the short wig. Short wigs are usually 6-14 inches long.
According to the texture of wigs, two wigs with the same length may look different. Manufacturers always measure wigs by stretching their hair to get the correct number. This means that curly wigs will be 1-2 inches shorter than straight wigs.
4. Consider the shape of your face
Our suitable wigs should be able to improve your face shape and highlight your natural features. To choose a short lace front wig suitable for your face, you need to first determine your face shape. Through your own face shape, you can determine the type of short wig that you want and the hairstyle or color that suits you.