For black women, wearing wigs is crucial to their quality of life. Women can select from a variety of human hair wigs. We provide lace front wigs, 360 lace wigs, lace closure wigs, headband wigs, guleless wigs, transparent lace wigs, V part wigs, and u part wigs.
The preferred choice for persons with hair loss is increasingly human hair wigs. Are you absolutely certain that you are knowledgeable about every kind of wig, though?
What are your knowledges about human hair for u-part wigs? How do you put it in? Don't worry, we'll talk about a unique new wig style in this article: the u part wig. Keep reading!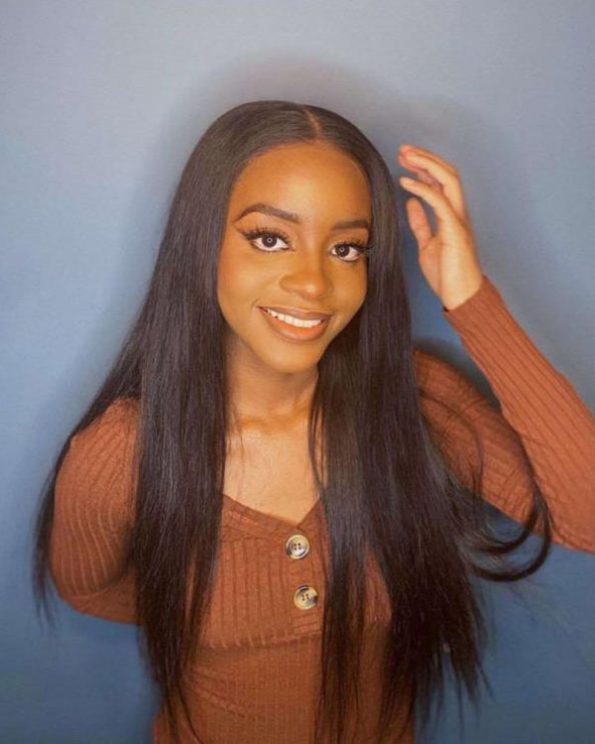 What exactly is a U-part wig?
First things first: Describe the U-part wig. U-part wigs, also known as 3/4 wigs, are hairpieces that have clips below and a U-shaped wig cap with a fine sheer mesh on top. Usually, U-part wigs are available in a variety of sizes to meet your demands. To obtain your chosen look, you can select a side, middle, or centre U-part. With this option, you may wear your own hair via the opening created by the U-shape portion, which is built into the top of the wig. You may conceal the extensions to create a more natural-looking hairline and merge your own hair with the wig without spending a lot of time in front of the mirror. Not to mention that it will allow your natural hair to breathe, which is always a bonus!
A U-part wig: how do you wear one?
It's simpler than ever to wear U-part wigs today. You will need to take a few actions to guarantee a flawless installation.
Before to parting your natural hair where the opening will be, set the u-part wig on your head. Be sure to separate enough hair, for instance, if your part is down the centre, so that when the wig is put in place, it can conceal the U part's edges and tracks.
Then, to make the procedure of attaching the wig easier, consider braiding or clipping your natural hair once you've made a parting out of the way for it. The remainder of your hair may now be laid down as flatly as possible once the desired area has been secured. The simplest approach is to horizontally braid your hair into cornrows. The hair closest to the u-part may seem thick and unnatural if the cornrows are braided straight back. If you have shorter hair, you may easily gel your locks back into a low, sleek style, which you can then fasten with bobby pins.
The next step is to attach your U-part wig to your braids. Fortunately, the majority of U-part sets have combs and clips that you can quickly insert into your hair. To create a more comfortable style, you may tighten or loosen adjustable straps. If you want greater security, you may simply sew the tracks at the U part's edge to the cornrows that surround them on your head until all that's left is your natural hair is left out. Once the wig is securely fastened, you may unpin your hair and spread it out to conceal any exposed wig pieces. To meld your natural hair with the wig, a flat iron is helpful.
How should a U-part wig be styled?
Your U-part wig may be worn in a plethora of various ways. You have the choice to test as many colours and styles as you desire, as we have discussed throughout the blog article. These U-part pieces provide you the freedom to experiment with a fresh look every day, whether you desire an asymmetrical bob or a damp and wavy hairstyle.
Are U-part wigs preferable?
The big question: Are U-part wigs preferable? If you know how to care for your natural hair, then the answer is yes. Although U-part wigs do not pull as firmly on your head, most women claim that they assist reduce hair loss. U-part wigs would also be the best choice for someone who is switching from perm to natural hair. Going natural may be challenging at times, especially if you don't know what hairstyles to try or are experiencing the uncomfortable phase of having curly hair at the roots and damaged hair at the ends. U-part wigs provide you the option to conceal such flaws while still maintaining the health of your own natural hair. Even if you receive all these wonderful advantages, you must take the utmost care with the hair that is not covered. Avoid allowing your leave out to be damaged by extreme heat.
Can I go to bed with my U-part wig on my head?
Like any other hair piece, your U-part wig may be worn while you sleep. Simply make sure that the hair that is left out is braided down to avoid frizz, dryness, or split ends. We advise putting the wig in a silk hat, wrapping it with bobby pins, or covering it with a silk scarf before going to bed. Before going to bed, do your best to avoid flat ironing or curling your hair excessively.
Do U part wig harm your natural hair?
Can U-part wigs harm your hair is a serious subject that has generated a lot of conflicting opinions. As we have said, U-part wigs relieve pressure on your scalp and natural hairline. Regular sew-ins need you to securely attach each braid on your head to the weave. Fortunately, U-part wigs let you to simply clip the unit into your braids. Also, if you wish to stitch the unit down, it need not be as intensive as a sew-in. U-part wigs assist shield your scalp and natural hair for these reasons.
How much time do U-part wigs last?
If you take good care of them, U-part wigs may have a very long service life. Although some hairstylists claim the wig may last up to 12 months, they advise taking it out every 2 to 3 months to wash your real hair.
A U-part wig: how do I wash it?
Typically, it depends on how often you use your wig. You should wash it depending on the condition of the human hair wig if you wear it every day and three times a week if you just wear it to parties or special occasions. The procedures for cleaning a U-part wig are as follows.
I. Get a pail ready and combine shampoo and freshwater.
II. Place the wig in the water mixture. You must first remove the wig cap in order to ensure that the wig is completely submerged in the water.
III. Hold the hair in your fingertip until it is clean, being careful not to twist it. Use freshwater to wash the shampoo.
IV. After waiting 3-5 minutes, wash the hair after applying hair conditioner.
V. Please avoid using a blow dryer to dry and split your hair; instead, dry it in the air. To preserve the shape of the hair, if at all possible, place the wig on the foam stand.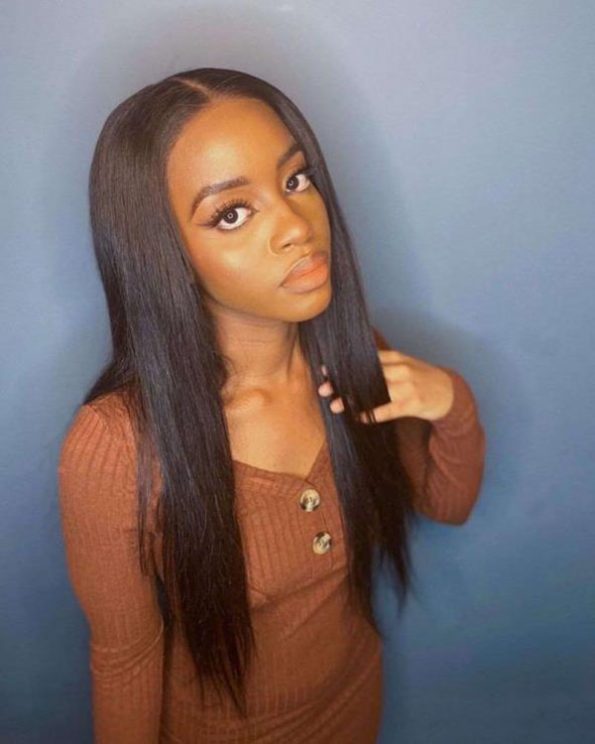 How should I care for my U-part wig?
Comb or style your wig gently.
Even wigs made of genuine hair must be used with gentle combing techniques to prevent hair loss. Start at the end of your hair and slide open the matted area to make it easier to comb.
The proper approach to wash a wig with a U part.
Use wig-specific shampoo and conditioner to preserve the hair as you wash it in warm water.
Use heat protection spray.
Using heat protectant oil on your human hair wig before using a flat iron or curling iron may lessen the damage done to your hair.
Once every week, thoroughly condition your hair.
The conditioner for hair may nourish the hair. As the hair is devoid of nourishment after it leaves the seller, you must apply hair conditioner to give it gloss, shine, and bounce.
Regularly trim the ends.
Even your own hair will eventually split at the ends, necessitating professional trims. In order to prevent damage from spreading up to the hair, you must clip the split ends of the U-part wig after a while of use. Trim the ends roughly every six to ten weeks.
Would you try to wear U-part wig?
We hope that our blog post has been useful to anyone who is thinking about getting a u-part wig. We're confident that if you follow these practical advice, you'll take full advantage of your hairdo. But now, we're curious about your opinions—would you ever wear a wig with a U-part? If not, why not? Post your comments in the section below.