The reason why natural hair is becoming more and more popular is without a doubt why kinky straight hair is becoming more and more fashionable. The best of both worlds may be found in kinky straight hair, which is ideal for people desiring a more natural and textured appearance. Kinky straight hair can also be flat ironed, twisted into two strands, or braided in addition to curling. Kinky straight hair is fantastic if you want more length, volume, and a natural look with structure. To continue reading, scroll down.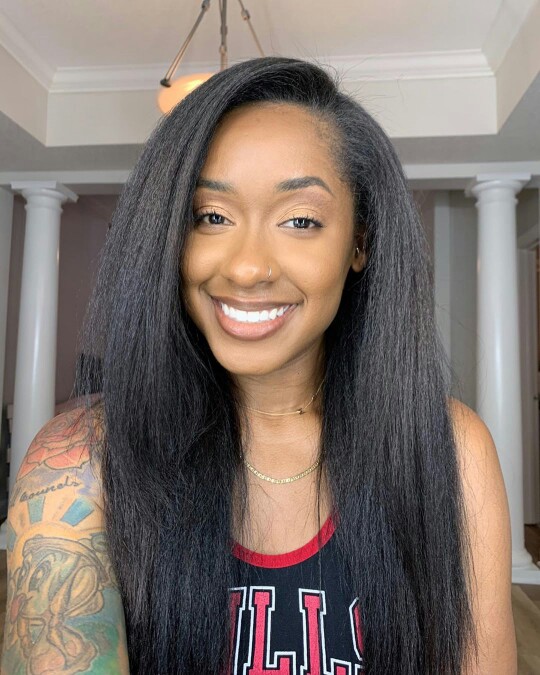 How does kinky straight hair look?
In order to create a thicker "kinky" or "yaki" texture that resembles that of typical afro relaxed hair, weave hair is tightly plaited, coiled onto tiny metal rods, and baked. For afro women, this is a really natural-looking alternative that comes in a variety of thicknesses depending on how the procedure was handled. Yaki hair is plaited tightly, whereas kinky hair is plaited looser and uses bigger rods to give the appearance of unrelaxed natural afro hair. It appears wonderfully natural and is what is usually described as "kinky" or "kinky straight." Kinky straight hair is perceived as being thicker and having more hair. Kinky straight weave, often known as a blow out straight weave, is one of the most popular hair textures in the world today.
Kinky straight hair treated with steam retains its smoothness and shine. This hair can be curled, straightened, and washed. Your hair will look beautiful if you flat iron it, curl it, twist it, and style it with the kinky straight extensions. Our naturally kinky straight hair is the ideal choice if you're looking for virgin hair extensions to increase the length, volume, and wonderful natural look of your natural hair.
How is kinky straight hair created?
In order to make the kinky straight hair feel, look, and resemble naturally kinky curly hair that has been blow-dried or texturized, chemical processing was used on the hair. Light, gentle crimps and gloss may be seen in this hair as well.
You should prefer kinky hair because…
A wider range of options and adaptability are available when choosing kinky straight hair. In addition to enabling everyday styles like ponytails and untidy buns, kinky straight weaves also provide more elegant looks like undos and voluminous curls! Kinky straight hair is the way to go if you want light, voluminous, and authentic-looking hair!
Kinky hair weave different types.
Indian hair, Brazilian hair, Malaysian hair, and Peruvian hair are the four traditional sources of human hair. Selecting which hair to use really comes down to your choice. We provides black women/Africa-American with the greatest human hair weave at competitive pricing.
Brazilian hair weave is one of the most popular and extensively utilized types of hair. It has a kinky structure. Brazilian hair is untreated, and all of the cuticles are intact and oriented in the same way. Brazilian hair has a long lifespan since it is sensitive, gentle to the touch, and robust.
Malaysian hair is renowned for having a medium gloss and a smooth hair structure, which makes it seem incredibly natural in weaves. Light, elastic, and soft to the touch are characteristics of Malaysian hair.
Black women's hair is the ideal fit for the texture of Indian kinky hair weaves! The free-flowing nature of this texture makes it little upkeep.
Peruvian kinky weave texture – Peruvian hair is very resilient and popular. This hair texture may be regularly treated in different ways and is easily curled and moulded for the best results.
Can you curl or flat iron kinky straight hair?
You can flat iron and curl kinky straight hair, but use a lower heat setting to protect the health of your hair.
How can you keep your kinky straight hair looking good?
Detangling: To ensure the health and durability of your hair, detangle it and remove any snags. Use your fingers to gently comb out any knots. Use a wide-tooth comb to remove any lingering tangles and snags after that. Try applying a mixture of equal parts water and conditioner to the trouble spot to remove stubborn tangles. Use a t-shirt to pat dry your extensions after applying them, and let your hair air dry as well.
Keeping moisture in check – It's crucial to keep your hair hydrated to prolong its life. Compared to other hair textures, this one is dry. Hence, generating and retaining moisture in strands is crucial.
The best shampoo to use is one that produces little to no lather and is gentle. Try to locate a sulfate- and paraben-free shampoo. It is not necessary to often wash kinky straight hair, but deep conditioners should be used in between washes to keep your hair hydrated.
Be sure to use products that are light and not too heavy on the hair. Employ the right hair products. Look for hair care items made especially for hair weaves.
Oils are necessary.
Black women's natural hair is kinky straight style, hence moisture is necessary for the hair to flourish. Keep in mind that your natural hair gets moisture from your scalp, however hair extensions won't get the same oils. You will have to provide it.
Use a mild oil like olive oil while your hair is still wet to give it hydration and lustre. As a general rule, go easy on yourself.
Weaving advice for kinky straight hair.
I. To prevent your hair from fading, try to stay out of the sun as much as possible.
II. Use a hat or scarf while you sleep to prevent friction-related hair loss, tangling, and breaking.
III. Avoid using too much heat.
IV. Avoid over-washing your extensions since this will make them dry out and tangle.
V. Don't use too many hair products with alcohol in them.
VI. Keep your hair wefts intact.
VII. Be certain to weft seal all of your hair wefts.
VIII. Utilize heat sparingly and use a heat protection.
IX. Even if you are wearing heat protection, excessive heat will still harm the object.
X. Wear a silk scarf, pillowcase, or hat.
XI. Avoid overmoisturizing your extensions because this can make them heavy and greasy.
XII. To reduce frizziness from the friction of the towel, consider pat drying, squeezing, and air drying your hair instead of towel drying it.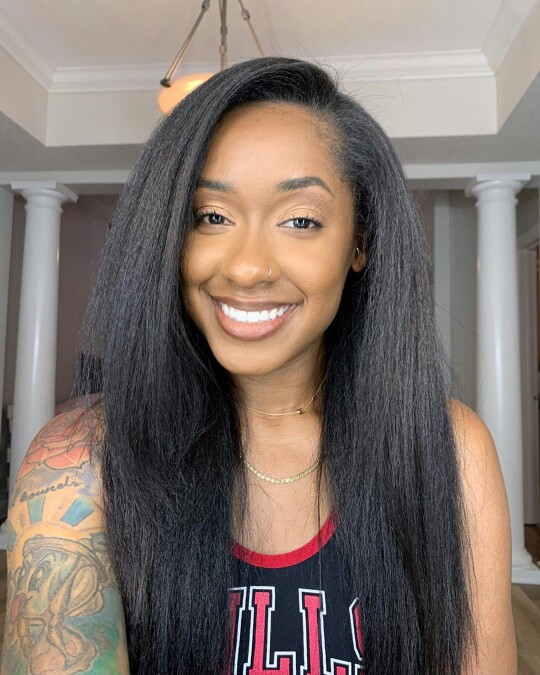 Take a break from your wig.
On your head, kinky straight hair often last a few months. Thus, don't make them longer than this. Be sure to wash and condition your hair before each subsequent installation if you want it to stay longer.
The use of top-notch kinky straight hair is the most crucial factor in maintaining your gorgeous appearance with hair. You'll have a far more natural appearance and feel thanks to human hair!