We all understand how vital it is to take care of curly hair, whether you perm it or wear a good short curly wig. It can extend the service life and naturalness of our curly hair. Short curly wigs are becoming increasingly popular; today, we will discuss how to care for short curly wigs.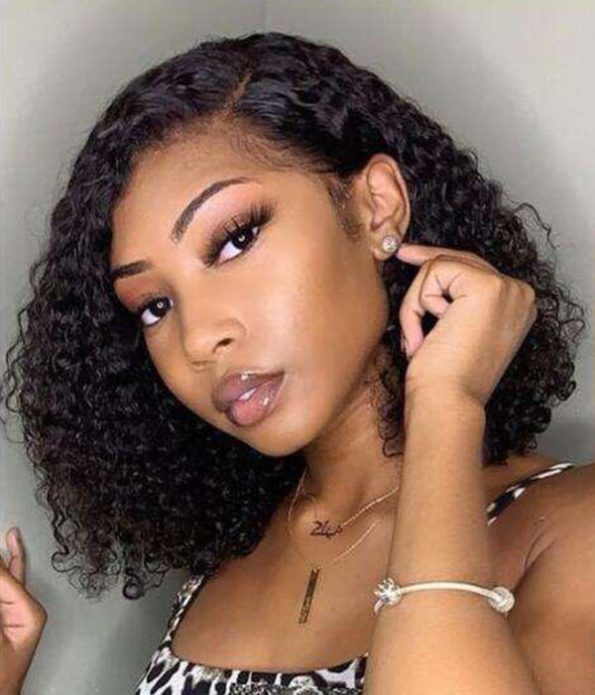 Ⅰ. How do short curly wigs work?
Try wearing a short curly wig for attractiveness and naturalness. A form of wig that is shorter than the average wig length is short curly wigs. Of course, it has the same effect as a wig and is suited for bald or hairless people. Additionally, it can be used to lessen sun damage to the scalp. Most hair determines kind. Short curly wigs come in three different varieties of curly hair: wavy, coiled, and curly. About the fluffier the wig, the curlier and smaller it is. Real human hair and synthetic wigs can be made from the same material. The majority of short curly wigs fall under the 3A, 3B, and 3C curly and 4A, 4B, and 4C kinky hair categories. They are further split into lace, monofilament, and full lace styles. Numerous people have hair that is black, brown, or another hue.
Ⅱ. Benefits of short curly wigs.
Short curly wigs for black women feature a variety of styles, so you won't need to spend as much time getting ready each morning for work (no more hairspray, mousse, curlers, etc.). Time is money, as the saying goes, and when you save a lot of time, you have more time for more essential things. Short curly wigs have been able to save so much money by no longer needing to purchase hair care products that they have been able to utilize those savings to purchase many wigs. Additionally, short curly wigs for black women are available in a variety of hues and designs to best complement a black woman's facial shape and skin tone. Of course, having short curly hair makes your scalp and hair healthier for black women. This is due to the fact that caustic hair products are no longer necessary. Your hair and scalp will eventually suffer continual damage from these products. A decent short curly wig will also offer you the self-assurance you need to feel and look attractive every day.
Ⅲ. How should I care for and wash my black women's curly wigs?
The procedure for caring for short curly wigs.
Wig products are three points to view the items and seven points to show the care, as the phrase goes. Therefore, it's important to pay attention to the following maintenance procedures for short curly wigs.
1. To prevent hair roots and net bottom from coming loose, avoid using a comb to scrape the hair roots.
2. The construction of the perm styling must be carried out by professional hairdressers, not their own perm easy to damage. Short curly hairstyle after receiving it, first shake open the volume, then follow the texture hand grip to grip, so that the wig fluffy nature may be used about one hundred- and eighty-degrees curling iron styling.
3. When it's time to shampoo, place the short curly wigs in warm water with nourishing shampoo (avoid using oil control), and gently brush the wigs in that direction (do not scrub with your hands).
4. After soaking for three minutes, wash the hair foam using the same procedure in warm water with conditioner for five minutes.
5. After washing, pat the hair dry with a dry towel to remove as much water as possible. Do not rub.
6. Hair seams must be evenly distributed, hair combed, and identical to the original before being placed on the bracket to dry.
7. To preserve the curls and stop additional tangling, gently cover the wig with a hair net. Then, to prevent dust accumulation, lay your short curly wigs flat inside the bag or box it arrived in or put your wig into a plastic, sealed box.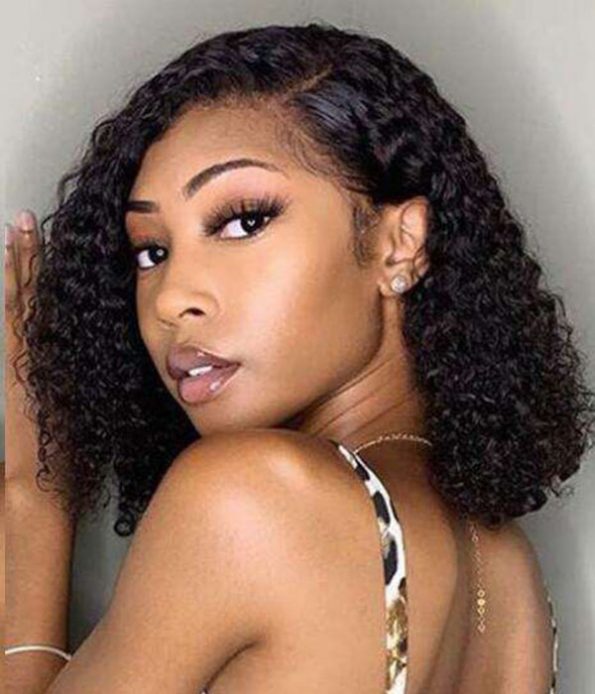 Care should be used while cleaning short curly wigs.
1. Avoid brushing the wigs.
2. Shampoo is added to cool water. For around 15 minutes, gently swish the wig in the water until it is completely submerged.
3. Rinse the wig several times in clean, cold water after emptying the water.
4. Squeeze the wig gently to remove the water.
How can short curly wigs be refreshed?
Take a fresh towel after washing your short curly wig. In order to absorb the moisture, completely cover the wig in the towel. Find a specialized drying rack for wigs, and hang the short, curly wigs there from top to bottom to let them air dry. This will preserve the wig's natural curve.
Why can't I wipe my short curly wig with a towel?
After washing their wig, many people have the practice of drying it with a towel. By creating curls and exposing the cuticle, towel drying a curly wig might harm it.
Short curly wigs: How long do they last?
It normally lasts between seven to ten months with adequate maintenance. In general, it is based on how frequently you wear your hair and how you maintain your wig. If you treat your hair incorrectly, the wig might be damaged in a matter of minutes.