V part wigs are ideal for beginners who want to try out different hairstyles without damaging their own hair or spending too much time and money on salon visits. They are also perfect for women who suffer from hair loss, thinning or alopecia, as they can cover up the problem areas and boost their confidence. V part wigs are versatile and convenient, as they can be worn for any occasion such as work, school, party or date night.
If you are looking for a way to transform your look and achieve a natural and flawless appearance with minimal effort, then you should consider getting a V part human hair wig. A V part wig will not only enhance your beauty but also protect your hair from heat damage, chemical treatments and environmental factors. With proper care and maintenance, a V part wig can last for a long time and give you endless styling options.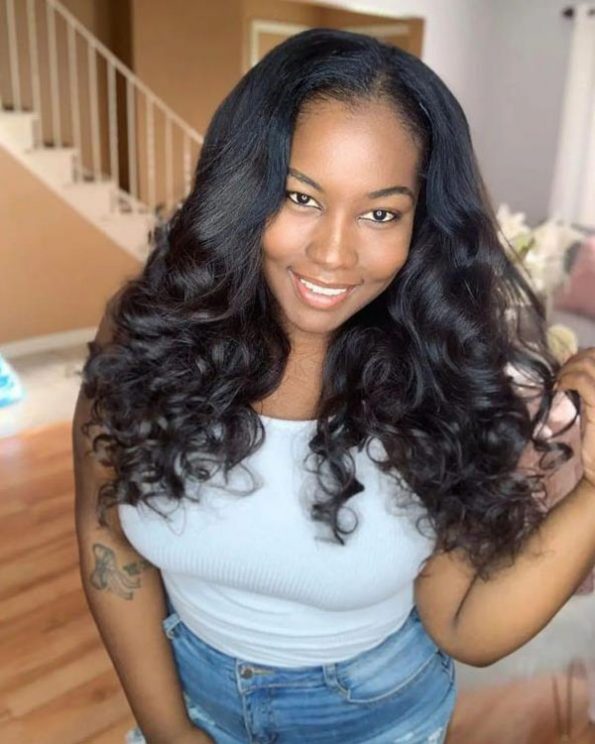 What exactly is V part wig?
A V part human hair wig is a type of wig that has a V-shaped opening on the top of the wig cap, allowing you to blend your own hair through it and create a natural hairline. A V part wig is also known as a V-shape human hair wig, a modified half wig or an upgraded U part wig. Unlike lace wigs that require glue or gel to secure them, V part wigs are glueless and easy to install and remove. They are also more breathable and comfortable than lace wigs, as they do not cover your entire scalp.
V part wigs come in various textures, lengths, colors and styles to suit your preferences and personality. You can choose from straight, curly, wavy, kinky or body wave V part wigs made of high-quality human hair that can be styled with heat tools and dyed as you like. You can also opt for different colors such as natural black, brown, blonde or balayage highlights to enhance your beauty and complement your skin tone.
V part human hair wig is a great option for anyone who wants to have a natural-looking wig without using any glue or gel. It is also suitable for beginners who want to try wearing wigs for the first time. If you are interested in buying a V Part Human Hair Wig, you can find some online stores that sell high-quality and affordable V Part Human Hair Wigs such as, and. You can also check out some reviews and tutorials on how to wear and care for your V Part Human Hair Wig on YouTube or other social media platforms.
What qualities do V part wigs possess?
The realistic appearance and undeniable comfort of a V part wig are unbeatable. There's still more, though! Some outstanding features of this fashion are as follows:
Lightweight.
V part wigs don't restrict your movement in any way and let you carry out your usual activities while wearing a wig because they are so incredibly light and comfortable to wear.
Your natural hair may grow as a result.
V part wigs provide high breathability, which allows the hair to have room to grow thick and healthy. So, the V part wig should be tried if you're seeking for a wig that encourages hair development.
Breathable for your scalp.
Because to the V-shaped opening at the top, which also promotes enhanced air circulation, your scalp won't feel as warm and perspire as much. You could feel comfortable all day long since heat is kept off of your scalp.
Installing is simple.
V part wigs are made with clips that make attaching your wig simple and quick. The only steps involved are to clip it on and merge the borders at the v-section.
No lace in the wig.
One type of non-lace wig, V part wigs are made without lace, negating the need for glue or other adhesives. All you have to do is clip it on!
Sync up with your natural hairline.
For a more natural appearance, you may use the v section to smudge the wig into your natural hairline. V part wigs are the real kind of deal when it comes to tricking everyone!
Hairstyle versatility.
V-part wigs have a lot of benefits, including the fact that they The variety of hairstyles that v-part wigs provide is another fantastic advantage. To begin with, this kind of wig gives the wearer a more natural appearance. These wigs typically do not allow you to wear your real scalp uncovered. You can make a centre part or side part using the weft on top if you have huge or unnatural patches without a wig or if the weft is so thin and flat that it suits your demands. To experiment with various looks, you may also add accessories of your choice, including clips or headbands.
Installing it doesn't need adhesive.
Do you have a glue allergy? Do you have sensitive skin? If that's the case, pick a wig that can be worn without adhesive. The V part wig is one example of this style. For ladies who have a glue allergy, it is ideal because it doesn't require glue or adhesive.
Provide a more natural appearance.
The fact that V-part wigs provide the wearer a more natural appearance is yet another fantastic advantage. Due to the lack of a weft on top or the weft being so thin and flat that it cannot be seen, these wigs often do not have noticeable or huge spots. Also, you may wear your natural hairline, giving you a more natural appearance. Thus the V part wig is the perfect choice for you if you're seeking for a wig that offers you a more natural look.
V-part wigs are inexpensive.
The V part wig is the best option if you're seeking for the least expensive wigs available. V part wigs are both high-quality and reasonably priced. V-part wigs are still less expensive than other wig varieties, such lace wigs. Also, because they are one-time investments, you may receive greater value for your money. A V-part wig may last more than a year if properly cared for.
Friendly to new user.
This is one of the greatest options available for folks who are new to wearing wigs. V part wigs provide novices a simple way to become used to wearing a wig without having to cope with intimidating installation procedures like lace closures or sew-ins.
Comparable to a U-part wig, leave out 99%–100% less hair.
With a V part wig, you may leave out 99%–100% less hair than you would with a U-part wig. As a result, more of your real hair is shielded and safeguarded underneath the wig!
Leave out or no leave-out.
You can choose to leave a section of your natural hair out or not when wearing a V-part wig. As a result, you are free to totally personalize your appearance anyway you see fit.
How do you decide which V-part wig is best for you?
There are several things to take into account while picking a V-part wig. Consider your lifestyle and the wig's intended use to make sure it blends seamlessly into your regular routine. And keep in mind that your natural hair will mix in with this wig.
How should a V-part wig be styled?
Because of its adaptability, a V-part wig may be fashioned to look just like real hair and can be used without any additional maintenance. The wig may be secured to one side or the middle.
Putting techniques into practice.
Braid, twist, or draw your hair back into a bun to get it ready for a V-part wig. If you want, you can part your hair on the side rather than in the middle and keep it around the perimeter of your head.
Make an effort to leave enough hair out so that you may braid two cornrows around your natural hair. The clips will have a base on which to fix the wig in this way.
Styling the hair.
Your natural hair's texture as well as the wig's texture are important considerations for wearing the V-part style properly. But, there are many style techniques available that may be utilized to improve your appearance, so do not be alarmed. A consistent appearance with the V-part wig is important, whether you decide to use hairstyling equipment to straighten or curl your hair.
The wig's quality and the style methods employed are the ultimate beauty secrets to attaining the ideal appearance with a V-part wig. The possibilities for fusing your natural hair with a V-part wig range from braids to twists.
See examples of how to wear the wig in the section below:
Half-up bun.
V-part wigs offer more creative flexibility than frontal wigs, so wave goodbye to their restrictions. These devices provide an easy yet fashionable option by making it straightforward to arrange your hair in half-up buns. The ideal bun may be easily made by tucking a few hairs from the side of your centre part.
Side plaits.
Side plaits with a V-part wig are a versatile alternative to dull buns. Side plaits are perfect for a contemporary and fashionable look since they provide a versatility and attractive appearance for any wig and length.
Create two plaits on either side of your head and place your wig in the centre with leave-outs to get this appearance. Hold them suspended and braid them expertly. This look is basic yet fashionable and offers a new perspective, making it ideal for weekends and informal occasions.
Half-up & down.
You can effortlessly dress your hair in a ponytail or half-up, half-down style with V-part wigs, and add a headband to complete your appearance. It is not possible to comb your hair back to complete the half-up portion, in contrast to frontal wigs. But, you can create a style that is suitable for both the workplace and a night out by simply adding a headband.
Who needs a V-part wig to make them seem better?
Ever wished you had hair that was thicker and more plentiful than it is? The secret to unlocking your natural beauty is the glueless V-part wig. With the aid of this amazing product, you may have long, gorgeous hair that also helps hide any imperfections on the crown of your head.
With the aid of this enchanted transformation, you may achieve a striking appearance with long, thick tresses that are certain to catch people's eyes. Those who could benefit from a wig with a V-Part include the people on the list below:
People who want to try out a new hairstyle but do not want to commit to it permanently.
People with thinning hair or balding patches.
Short-haired women who desire long, more volumized hair.
Anyone looking for a quick and easy way to change their appearance in a matter of minutes.
Women who enjoy employing non-damaging methods to add texture and colour to their hair.
Those who are interested in achieving an undetectable finish by making a smooth transition between their natural hair and their wig's hair.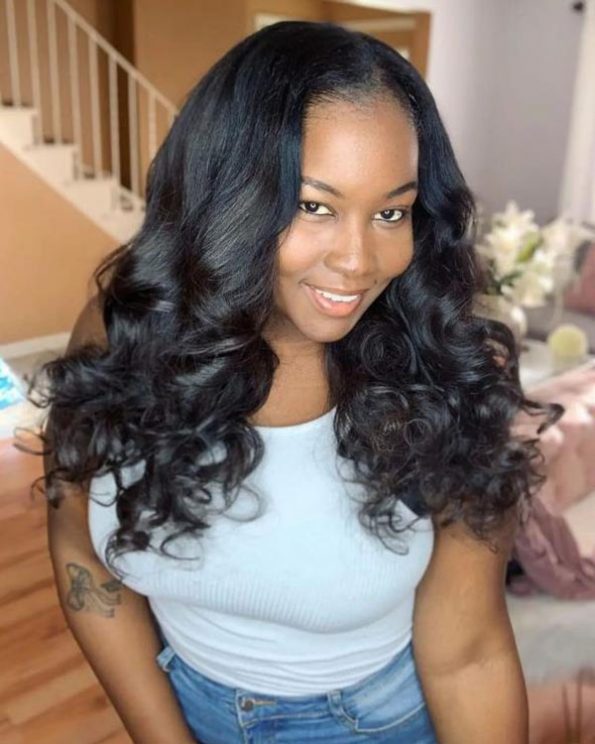 Bottom line.
The advantages of being simple to use and quick to put on and take off make V-part wigs an excellent replacement for conventional wigs. These wigs are ideal for the modern lady who is often on the move and wants a sophisticated yet casual look because of their ease.
Websites like ours provide a range of alternatives to fit your specific interests. V-part wigs are readily available in a variety of hues and lengths, with extremely straight, kinky straight, and wavy styles among them.
V-part wigs' ease and adaptability will replace the time-consuming process of visiting a salon or hairstylist. Then why wait? Today, explore a whole new world of hair styling options by looking at V-part wigs.