I never get tired of marvelling at the amazing world of wigs. In all honesty, it seems like there is a new wig invention or technique making its way across the internet every time I glance up, making wigs seem more lifelike than before. May I also add that they are putting all other hair extension techniques to shame because they are becoming so simple to master at home (sew-in weave who? I've never met her. 360 wigs are one of the most recent inventions that have me completely speechless.
With lace all the way around the wig's perimeter, 360 wigs are an improved version of the currently popular frontal wig, as their name indicates. Far more adaptability is possible with 360 wigs than with its forerunners. It's time to add a 360 wig to your online cart and make it happen, captain, if you have ever desired you could pull your wig up in a chic high ponytail. Also, whatever what the term would imply, anybody can successfully slaughter a 360 unit—wig expertise is not a requirement. Yet, if you're a novice or just short on time, you can always get in touch with a professional to install whichever type you buy.
But there is also the fantastical world of Youtube, where the number of vloggers who are adept with wigs of every kind is expanding at an exponential rate. I can tell you from experience that there are so many 360 wig lessons available that if you watch them all in one day, you would have the knowledge and skills required to install a 360 wig comfortably and independently. Picking the appropriate wig for your style and skill set is another difficult life task, on par with choosing a nail colour. 360 lace frontal wigs will be the major topic of discussion in our post today.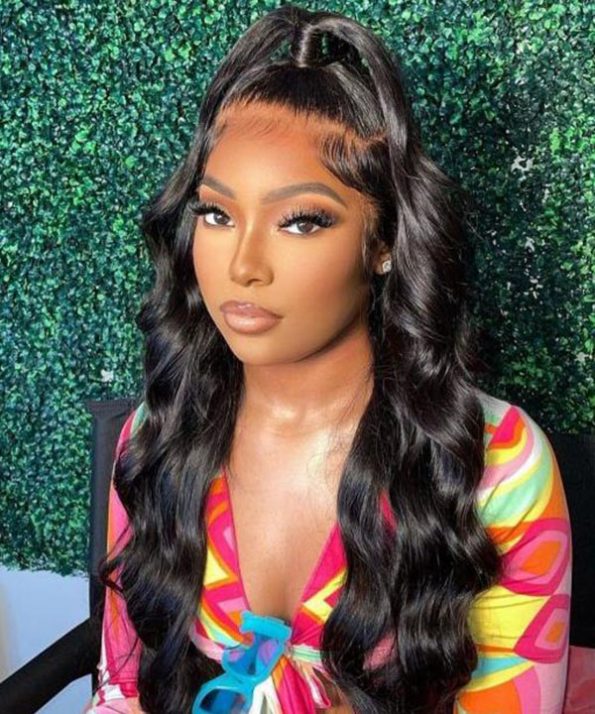 A 360-frontal wig: what is it?
The most recent preferred alternative for people wearing lace frontal closures and bundles is a 360 frontal wig. Since its 2016 introduction to the hair market, it has gained popularity. It is created by adding wefts in the middle of a standard 22×4.5×2″ 360 band lace frontal, giving the wearer of a wig the benefits of styling without exposing bundle wefts from previously using the standard 13×4″- 13×6″ lace frontal closures. With the development of 360 wigs, you can create countless up-do hairstyles without having to expose your bundles, and it also saves time by eliminating the need to sew the bundle hair extensions to the corresponding closure parts.
What qualities should a lace wig have?
While selecting one of these lace wigs if you are just starting out, you should keep a few things in mind. When determining which wig option will be best for your subsequent lace wig buy, these fundamental considerations are essential.
Budget – Depending on the hair type (hair origin), density (thickness of the hairs), and length of the hair, the price of each wig can range from cheap to expensive.
Usefulness – How simple is it to wear for novice to experienced wig users.
Protective hairstyles – It must to assist the choice of acquiring protective hairstyles. Be sure that each wig supports your natural hair if it is coming back or if you are transitioning between hairstyles.
Easy styling – Your lace wig should not only be pleasant to wear, but also simple to style again, offering users of the wigs a new hairdo choice each day.
Among the fundamental considerations are but a few of them. You may want to take into account the style capabilities of these lace wigs, such as their comfort of wear, natural appearance, ease of hairstyling, and more, depending on the lace wig you choose.
What is the advantages of 360 lace frontal wigs?
The following are some of the numerous benefits that it offers:
Natural appearance.
The first advantage is that it gives individuals a more natural appearance, which is why it is advantageous. With regards to wearing wigs, there is no question that you will need to comprehend the importance of the natural look. This is made easier by the baby hair's format.
The experience of luxury.
Increases the sensation of luxury. There are no additional benefits to the same than this. The people has to be aware of how expensive lace wigs are. To the hair, they provide shine. Also, they aid in your comprehension of my decision to exclusively present a natural appearance.
The simplicity of upkeep.
Another of the most crucial factors is how simple upkeep is. There is no denying that if someone wants to look their finest, these are the wigs to choose. They are also simple to wear and require little care. With the same, there won't be any significant issues.
Improved appearance.
You can always appear better with the help of these wigs. Nobody will criticize how it appears on you or, of course, say that it is a fake.
Versatility.
Hand-knotted 360 lace wig hair allows for unrestricted parting in a variety of ways. Moreover, it has a broader separating area, giving you the option to style it in a variety of ways.
French braids, ponytails, and other hairstyles are all possible thanks to the cap's structure.
Depending on what you desire, you can even design half-up, half-down hairstyles. Also, your tracks will not disclose, regardless of the style you develop.
Comfortable to wear.
More airflow is provided by the 360 lace wig for more comfortable wear. In comparison to lace frontals, T-part wigs, and U-part wigs, it has greater lace space.
It also includes a breathable cap in the middle to promote further ventilation.
The wefts also contain wide areas between them, which reduces the density of the hair. As a result, wearing your wig for a long time won't cause you any discomfort.
Affordable compare to conventional lace wigs.
Comparatively speaking, 360 lace wigs are less expensive than full lace wigs. They need less work since they have less lace surface area and less hair density.
The price range for a 360 lace wig should be $50 to $200. Keep in mind that wig length, style, and lace type might affect pricing.
360 frontal wigs vs. lace front wigs in terms of ease of usage.
The majority of people beginning lace wigs are not knowledgeable about the benefits and drawbacks of lace front wigs or 360 lace frontal wigs. They learn much of what they need to know from online videos and recommendations from friends, yet they nevertheless install their lace wigs improperly the first time.
The same result could occur even with wig users with expertise. When deciding whether to use wig adhesives or wig tapes, most people forget that they may need to try several before they find "the one" that will work with their chemistry over time without wig slippage after adhering or the mistakes of applying glues to hairlines – In a panic, this will result in shredding of hairs and the delicate Swiss lace material.
See which is easier to use by comparing 360 frontal wigs vs lace front wigs.
Using 360 frontal wigs is simple.
Due to a number of characteristics, 360 wigs are a wonderful wig option for both beginners and experienced. They have a ton of built-in features that are simple to use straight out of the box. It has an improved level of wearability that can benefit everyone who wears wigs.
Especially when choosing a hair texture that closely resembles a person's natural hair texture, it is simple to install and most of you will get a snug fit along with the anatomic curve constructed wig cap design and four combs intricately sewn in, so most won't have the required need to use wig glues. It also has natural hairlines and the ability to be worn in a very high bun hairstyle. Other features include adjustable straps, which are essential for giving any woman a snug fit when wearing the 360 lace frontal wig.
Lace front wigs.
You may choose whether you want the lace front wig cap design element with additional lace material at the nape or without. These lace fronts may provide extra characteristics to any "wiggy" that are comparable to those of the 360 wig. Features like: a totally natural-looking hairline, three to four combs, soft Swiss lace, and baby hair along the hairline. Nevertheless, because to the restricted lace material incorporated on these lace front wigs, there are certain limitations in styling these lace front wigs in a very high bun hairdo.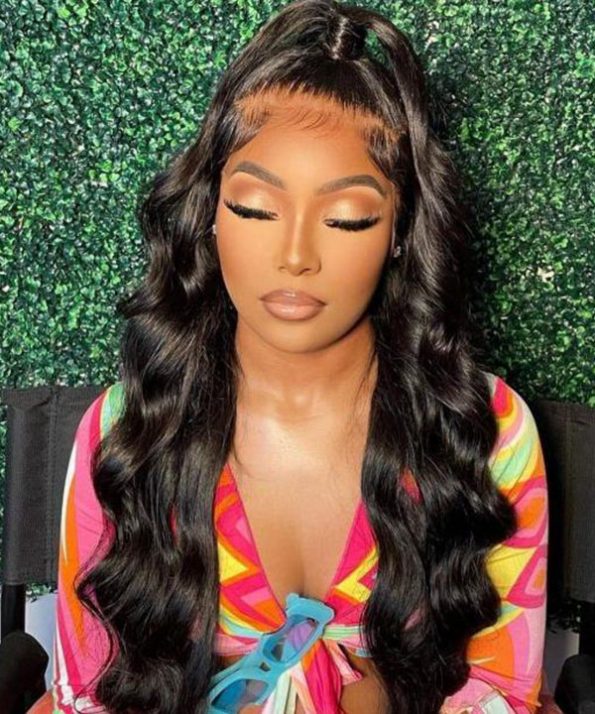 Questions regarding 360 lace wigs.
Which wig—a 360 or a full lace—should you purchase?
Whether to get a 360 or full lace wig depends on personal choice. Think about your budget and the characteristics of the wig before making a decision. The 360 lace wig is a wonderful choice if you're seeking for something more reasonably priced.
But, if you want more style options, a full lace wig would be an excellent alternative. In contrast to the 360 lace wig, which can only be parted around the circumference of the head, the wig may be parted from anywhere.
Can I create a 360 wig on my own?
Indeed, you can. Bundles are attached to the centre of the 360 lace frontal to finish the wig. A 360 lace frontal closure and hair bundles may be used to create a 360 human hair wig.
How much does the 360 lace frontal wig usually?
Costs for 360 lace front wigs range from $70 to $300. The cost of 360 wigs vary depending on the lace, hair, wig cap, or manufacturing technique, shipping, and other elements. Generally speaking, you must also take into account the expense of ongoing maintenance.