Your appearance will change when you add a reddish-brown wig to your style, which also gives your appearance more charm and individuality. We realize that picking a brown hue is one thing, but adjusting to it is another. To make it easier for you, we've put together this fast guide to everything you need to know about reddish brown wigs. So, today's major topic will be reddish brown wigs, one of the best hairs colours for winter. This hair colour and style will make you enjoy it if you're a girl who wants to alter the colour of your hair but has never decided to do it.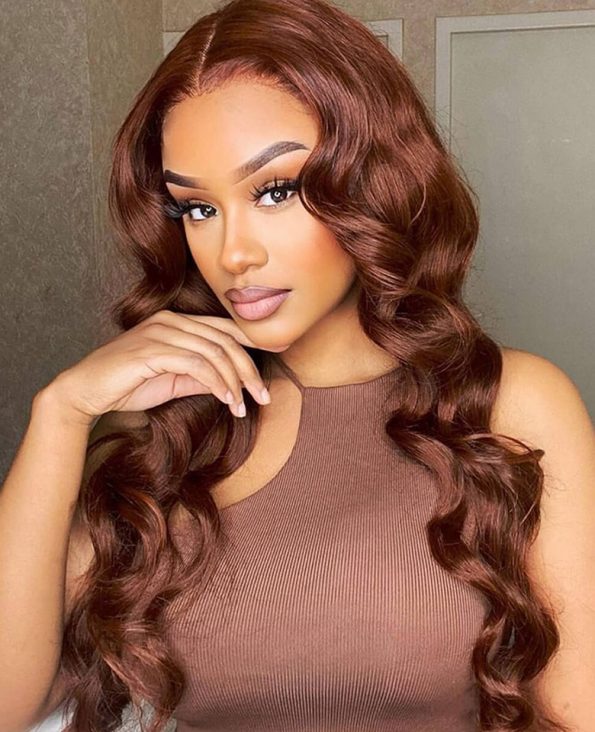 What exactly is a reddish-brown wig?
Black ladies/ African-American ladies frequently purchase reddish-brown wigs, which are in great demand. Reddish brown wigs are a versatile option because, depending on your complexion, you may pick the shade of reddish brown that best complements your features. Red-brown is a colour with the hue code #33 and is also known as auburn. Red-brown is created by mixing particular amounts of red, blue, yellow, or red with black; various combinations of these colours result in varied hues of reddish-brown. All ages and skin tones may wear it.
The raw human hair used to create the reddish-brown wig. It has been pre-plucked and is a lace front wig with a natural hairline. We provide high-density wigs of excellent quality and at affordable costs. Additionally light on your head, this wig gives you a fashionable and lovely appearance.
A range of wigs with reddish brown hair.
Shades of reddish hair can range from the very darkest brown to the lightest brown, and the hue reddish brown is available in a wide range of tones.
Bambi warm reddish brown: simple to handle without choosing people, moreover, it will expose a faint red sensation in the sun, whether it is shiny or matte, the texture is pretty lovely!
Purplish red: often known as a dark shade of purple, is a colour that is warm and melancholy and is used to denote loyalty.
Brown fuchsia berries colour: Based on reddish brown with a touch of purple, the fuchsia brown berry shade may be adjusted to suit females with pale skin tones.
Pale peach roses: a sign of modesty.
Carnation: pale red.
Dark red: a shade of red that does not reflect much light, similar to wine red, Gorgeous dark red with a hint of purple.
Passionate reddish-brown: outside, it seems orange-red.
Rose madder.
Red fuchsia.
Maple reddish brown.
Mulberry.
Pink geranium.
Orange with reddish tint.
The advantages of the reddish brown wig.
The option of fall hair colour has changed significantly from previous years due to the constant evolution of fashion trends. In the winter of 2023, more and more individuals will decide to switch from conventional dark hues to vibrant, lively ones. They will also continue to make audacious efforts and discoveries that will further accentuate their own appeal. such as red, pink, purple, brown, ginger, blonde, and so on. Red-brown, on the other hand, not only appears vibrant and aggressive, but also has an elegant and subtle disposition. Let's look at the advantages of red-brown wigs.
A spectrum of hues.
Different reddish-brown tones can be seen depending on the colour ratios. There are actually a lot more red-brown hues than the 13 that are listed here. Reddish brown has a certain allure and fashion trend, and because of its adaptability and suitability for people of all ages and skin tones, it will be a wonderful choice if you want to modify your style.
Magnificent appearance.
The reddish-brown gives the hair an exceptionally textured and velvety appearance. Furthermore, despite the fact that it seems to be a strong coffee tone in some lighting conditions, this hair colour is actually rather basic and is therefore both attackable and defendable. The brown-red hue harmonizes nicely with the hue of the leaves in the fall, making people feel cozy and lax while also showcasing the splendour of the season. It is an autumn and winter appropriate hair colour to colour.
The texture are spectacular.
High-quality human hair and high-definition lace are used in the red-brown wig, along with artificial hand weaving, clever machine weaving, a high-comfort mesh cap, and all of these materials are combined to create a stunning finished product. The reddish brown hue goes beyond the traditional red and elevates it for a more stunning and rich combination that may instantly brighten and freshen your appearance. You look naturally gorgeous and have a very pleasant and relaxed sensation.
Numerous choices.
Reddish brown lace front wigs come in a number of styles, including reddish brown curly, auburn, curly, straight, body wave, deep wave, water wave, glueless human hair wigs, and more. On our website, you can browse the broadest selection of reddish-brown fashions.
How should a reddish brown wig be cared for?
The right usage and care of your custom-made human hair red lace wig will determine how long it lasts. To prevent the colour from fading, you must deep condition it with a treatment made specifically for reddish brown hair.
When combing the wig, use soft strokes; avoid using regular brushes if at all possible. It is not necessary to comb it daily. Lay it to rest.
By removing your wig from your head and storing it on a wig holder stand while it's not being used, you can keep it in form and prevent hair tugging and yanking.
Please do not shake your wig with a towel after washing it. Take care and dry it out gradually. This will make sure that the hair strands stay in place.
Don't wring out the wig after immersing it in water; doing so might cause the bottom to deform and dry out.
It's also crucial to keep in mind that coloured human hair wigs shouldn't be coloured again because doing so will reduce their lifespan.
Which group suitable for red kind wigs?
Red is a neutral hue. Every skin tone may find a red thanks to the wide range of colours and tones. You'll look fantastic as long as you choose a red that complements your skin tone because, as we often say, shade is important. If you have a lighter skin tone, the deepest and lightest reds will look best on you.
Use a gradient effect or highlights if you want to go for a subtle or really smooth finish. Despite the fact that there are many beautiful deep reds, particularly dark or deep reds (like burgundy) can make lighter skin tones appear paler.
Golden copper reds and russets look wonderful on those with yellow undertones in their complexion. But keep in mind that really dark reds that change to purple may seem yellow. If you have a darker skin tone, the hottest reds could be too striking for you (despite the fact that they nevertheless work with your skin tone).
A few guiding concepts about wearing.
According to the basic rule of dress, it is preferable to stay away from matching red clothing if you have red hair. Silver jewellery goes well with reds that are lighter or deeper. Gold or brass jeweler in yellow pairs well with both lighter and deeper reds. Sometimes wearing yellow jewellery with vibrant red hair gives off a more joyful appearance. In order to avoid clashing with red hair, belts and other accessories can be of any hue (Unless you select a 26-inch red lace wig, in which case pick your belt wisely).
Red tends not to compete with other hues, so if you want to soften the impact of your red lace wig, dress in hues that are similar to it (Consequently, a darker top will hide your hair colour if you have a burgundy lace wig).
A simple guideline is that the more subdued the red is displayed (such as strawberry blonde and russet), the less stunning the appearance, and the more vibrant the red, the more striking the appearance.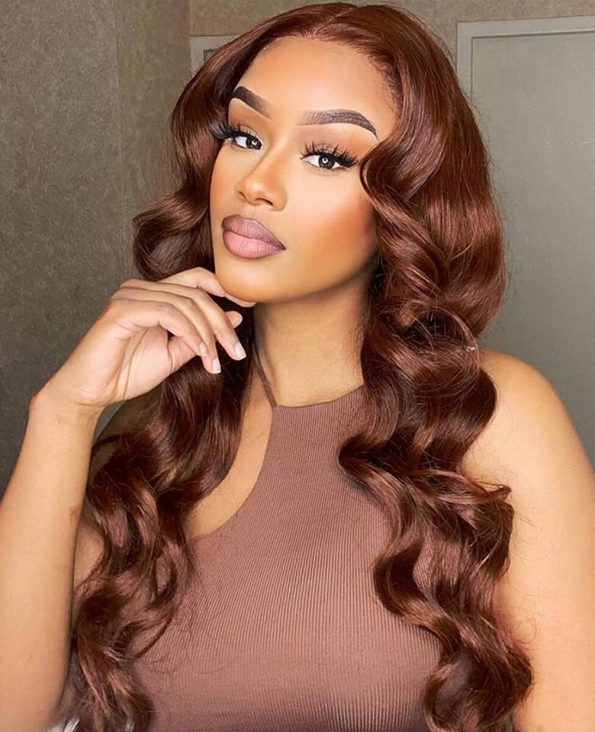 Customer feedback:
***** The hair is incredibly lovely and delicate. The vendor has excellent communication skills and is really polite. Worth the money because it's really smooth and silky. I adore this hair.
***** Omg the hair is so gorgeous; nice communication; you guys are fantastic. I'll continue to purchase.
***** Very lovely wig. The curls remained in the wig even after washing. The sellers were excellent at communicating the details, and they even emailed me a picture before sending the wig.
***** Great hair quality may be found here. It's quite soft. Great client service is provided. Absolutely worth the money, and shipment is quick.
***** This hair is very incredible. That hair colour is lovely! Silky and plush! Do not even consider, just get one.
***** I can honestly say that I'm overjoyed; my wig is just stunning, and oh my gosh, I will definitely be referring it and purchasing again.
***** This wig is extremely reasonably priced and looks quite natural. I'll shortly be placing an order for a second one in a different colour.
***** I adore this hair so much. It's really soft and worth the price paid. I'll certainly place further orders.
***** This wig is lovely and silky. I am frequently complimented. I am capable of curling, pressing, and washing. After washing, it curls beautifully and goes back to its original wave curl. Buy this if you're seeking for a natural, simple to manage wig!
***** Love, adore this wig! Absolutely as described. Beautiful and simple to handle. Seller is really kind and responsive.
Last but not the least.
Darker skin tones can be masked by a variety of wig colours. Black women are beautiful because they can pull off a wide variety of hair hues with ease. There are many lovely wig colours for those with dark complexion. You may experiment with any hair colour you choose with human hair wigs without causing any harm to your actual hair or scalp, which is one of its greatest benefits. The wig colour that makes you happy and gives you more self-confidence is the ideal shade for you.
How about the reddish-brown wig? In such case, let us know your thoughts in the comments section. If not, please share below the wig colour you like. We offered some style advice on reddish-brown wigs in this article with the hope that it will be helpful to you in some little way. Please feel free to contact us if you have any helpful suggestions or issues.