A wig with layers of hair connected to its front, back, and sides is referred to as a deep wave wig. The layers are designed with several styling options in mind. This is why it is known as a deep wave wig. The pattern of the waves that develop on the head characterizes deep waves. Depending on the individual wearing them, they may be straight, wavy, or curly. Deep waves can be up to two inches longer than their counterparts. You have the choice to alter the colour and style of your wig at home thanks to the deep wave wig, a brand-new, cutting-edge product. This hair accessory is available in a number of colours and may be used with either short or long hair. The deep wave wig has a natural appearance and is made entirely of real hair, which many people adore. Some people might want to style their deep wave wig when they first get it or after wearing it for a time. Today, we'll give you some styling advice for deep wave wigs.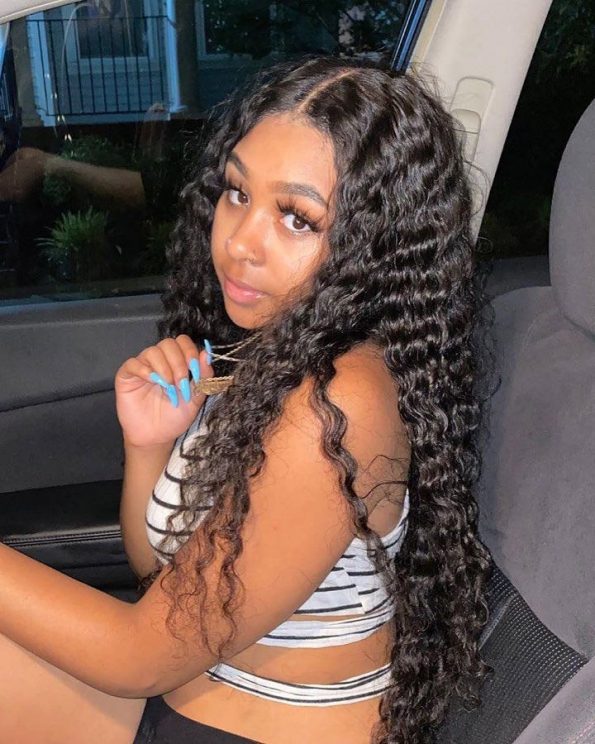 I. Verify the label.
Please check the label to see if your wig is composed of human hair and synthetic hair, entirely made of human hair, or entirely made of synthetic hair before styling it. If the wig is made entirely of real hair, you may treat it just like your own natural hair. Furthermore, using mild heat is appropriate when changing the appearance of a wig made of human hair. If it is all synthetic, though, there isn't much you can do because any heat applied to the wig might harm it and surely the service life of the synthetic fiber and much less than the human hair.
II. Brush the hair.
A deep wave wig's hair is curly, thus there can be a lot of knots towards the end. To untangle the hair at the ends, you should use a large comb. To avoid making the curly hair straight when combing the wave shape, be careful not to move too far up. After removing all the knots, smooth the hair upside-down with your fingertips. Your deep wave wig may appear well-organized and realistic as a result.
III. Make the curly hair stand out.
Once the hair is ready, you may spritz on some heat protectant. If you need to use certain heat equipment to style your deep wave wig later, it can shield the wig from harm caused by heat. Additionally, it is crucial to spray the curl-enhancing chemicals because, after prolonged use, the deep wave pattern may become loose. It is best to maintain it sometimes to keep it looking natural. These hair care products aid in maintaining curls.
IV. Wig styling.
It's time to style your wig at this point. For instance, if you want a middle parting hairstyle, split the hair from the centre of the wig with the point of a comb. Then use your finger to smooth the hair from top to bottom after applying some spring. You can proceed to the following procedure after the top of the hair has lies down.
V. Let the hair dry.
To maintain the new style, some mousse can be applied to the hair. After that, air-dry the wig wherever you can or use a hairdryer set to low heat. Avoid using excessive heat and limit the usage of heat on your wig. Even while you might not now notice any damage to your deep wave wig, they might eventually cause injury.
How is a deep wave wig washed?
I. Get the hair ready.
Apply a conditioner to the hair after spraying it with water to make it smooth. After that, use a wide-tooth comb to detangle the tips' knots in your hair. From the top to the bottom of the hair, run your fingers through it. After that, remove the wig and soak it with warm water.
II. Wash with shampoo.
Use your hands to lightly spray some high-quality shampoo on it after it becomes completely wet. In order to preserve its pattern and shape, it is preferable to keep it upright throughout this phase. Then, to ensure that all of the debris on the hair is fully washed, rub your finger through the hair to allow the shampoo to penetrate the hair further.
III. Wash the wig in water.
Place the entire wig under the faucet and give it a thorough rinse with flowing water. When you can no longer feel shampoo in the hair, use your fingers to comb it out. Repeat the second and third stages a number of times if you discover that the wig needs more cleaning.
IV. Dry the water.
Dry the extra moisture with a towel, being careful not to massage the hair too hard. Just move slowly and softly.
V. Use an intensive conditioner.
To maintain your hair in good condition, spray some conditioner on it. Wrap the wig in foil and the package in cling film for no more than six hours. Then use clean water to wash the wig. Next, let it dry naturally.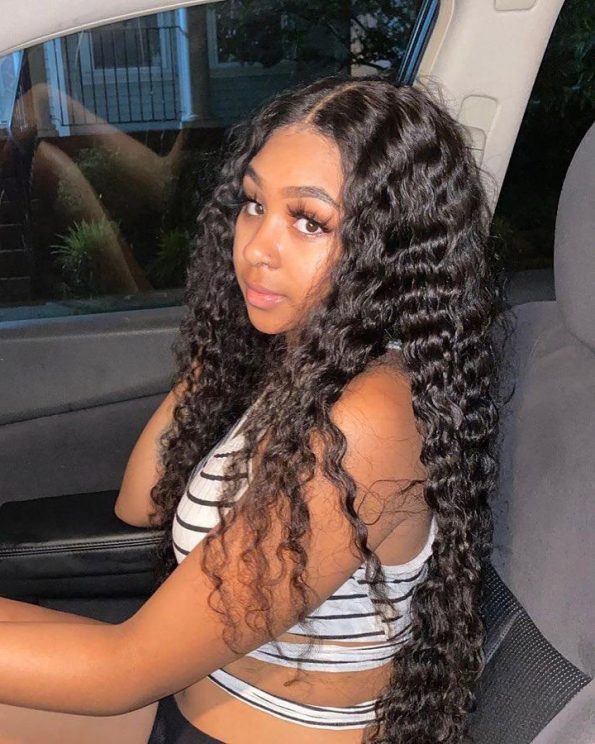 Wearing a deep wave wig to bed is possible.
First of all, sleeping with deep wave wigs is not as challenging as you may imagine. They can be combed and curled like your own hair because they are made of human hair.
Contrary to what you may have heard, you shouldn't sleep with your wig on while it's moist or wet. In order for your wig to stay in place, it does need to be little moist at first. However, after that, it should dry out rather fast. You can cover your wig with a satin scarf or bandana before bed if you're concerned about sleeping with damp wigs or if you want to keep the form of your waves during the day. Your wig will dry out more rapidly in the morning if there is no moisture left between the layers. The deep wave wig is very adaptable since there are many different ways to style it. Straight bangs are the most popular method to wear a deep wave wig, but you may also style it with curls or waves to get other appearances.
What store carries the nicest deep wave wig?
Let's say you want to get a deep wave wig right away but are unsure of where to look. You can look no further than visiting our online store. Deep wave lace front wigs, deep wave glueless wigs, deep wave lace closure wigs, deep wave full lace wigs, and headband deep wave wigs are just a few examples of the high-quality wigs available. You may select whatever colours and sizes you want for any style. Please contact us if you have any inquiries regarding wigs.