Hair that is rich, healthy, and luxurious! Isn't that what every woman desires?
You pick the most flattering stilettos, the ideal date-night clothing that accentuates your curves, flawless makeup, and the best eyeliner. But you still don't seem as you had hoped. What is the crucial component that is still missing? Your hair is the issue!
Sometimes the straightener you have in your hand is simply insufficient to set your hair flawlessly for the evening. Fortunately, it is where wigs are useful. Why? because they provide you with immediate glitz that is just what you want! If you want to attempt an ombre wig, there are a few things you need to be aware of. First off, ombre wigs may be a unique and entertaining method to switch up your appearance. They may also be a fantastic technique to alter your appearance without drastically altering your haircut.
However, there are a few considerations you should make if you want to experiment with an ombre wig. Here are a few things you should be aware of if you're new to wearing ombre wigs.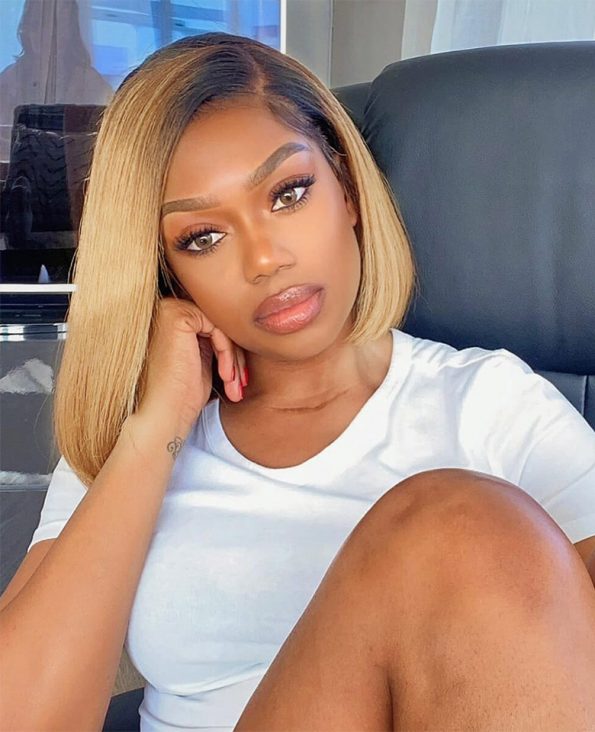 An ombre wig is what?
You will find hundreds of wigs with various qualities when looking through the different types of wigs. Choosing a wig from among all of these is not an easy task. But which wig styles deliver the best and most natural-looking glam?
Let us provide you with a solution to your query regarding ombre wigs. Every female adores them, and they are the buzz of the town! The gradation of colors they use to update your appearance will give your hair a fun twist. What's best? They're never monotonous!
A wig style with two tones is known as an ombre wig. When it approaches the end of the hair tips, the hue that is at the top of the wig (the roots) gradually changes into another shade. This lovely gradient touch gives the hair more volume and unquestionably contributes to a creative appearance.
How should I wear an ombre wig?
You have a lot of styling options when it comes to ombre wigs. One of the most typical methods of styling an ombre wig is to curl it using a curling iron. Your wig will seem more natural and have greater volume as a result. Another preferred method of styling an ombre wig is using a flat iron.
This can assist get rid of any frizz and give your wig a smoother appearance. You may easily style your ombre wig with hot rollers if you like a more dramatic appearance. You'll get thick, bouncy curls as a result, which will attract attention without a doubt. Whatever method you use to style your ombre wig, the end effect will make you delighted.
Advantages of ombre wigs.
#1. Make switching to a new hair color easier.
An ombre color wig can allow you test out a new shade of hair color before committing to it if you're considering going lighter or darker with your hair color.
#2. They are simple to get.
You can choose an ombre wig that you like because they come in a variety of hues. They are available for purchase online and at shops that offer cosmetics.
#3. Quite functional.
They may be worn in a variety of ways depending on your mood or what you're wearing. For a night out, style your ombre wig in a chic ponytail; for a laid-back daytime appearance, consider a messy bun.
#4. Cheap ombre wigs are available.
Ombre wigs aren't that pricey when compared to other wig types. They come in a wide variety of prices, so you can pick one that works with your spending plan.
#5. Sentry your own natural hair and scalp.
You can also protect your natural hair if you want to wear a wig. Wearing a wig and doing any style on it won't affect your real hair or scalp in any way. But if you're styling your natural hair, you'll need to apply heat and other styling tools on your hair, which might damage it. Wearing an ombre wig can give you the style you want and also safeguards your hair and scalp.
#6. Fun with ombre wigs!
Wearing an ombre wig is a fantastic way to spice up your appearance. Whether you're dressing up for Halloween or just want to try something different with your appearance, an ombre wig is the ideal addition.
#7. Require less upkeep.
You don't need to be concerned about your wig seeming rooted or out of place because the roots are darker than the tips. You only need to put it on then you are ready to go!
#8. Convenient for you daily use.
Curling, blow-drying, straightening, and other styling techniques take a lot of time, but a styled wig may be done in the space of a single minute. Wigs allow you to save time that you may put toward other tasks.
Advice on how to care for your ombre wig.
#1. Consistently clean.
Just like your own hair, ombre wigs need to be maintained frequently. The frequency of wig washing depends depend on how frequently you use it. You will need to wash your wig once a week if you wear it every day. You can avoid washing it every two weeks if you just wear it occasionally. When washing your wig, use shampoo and conditioner designed specifically for wigs. The weak wig strands are intended to be treated with care by these products. Because they might be overly harsh and deplete your wig of the natural oils it needs to keep healthy, avoid using standard hair care products on it.
#2. Avoid going to bed with damp hair.
If at all possible, avoid sleeping with damp hair. Knots and matting may result from this. If you must go to bed with damp hair, use a satin pillowcase or a sleep cap to shield your wig.
#3. Prevent great harm.
Awful things may happen to ombre wigs, and one of the worst is heat damage. Curling irons and hair straighteners that use heat may harm ombre wigs just like they can harm your real hair. To prevent harm to your ombre wig, style it with the lowest setting possible. Use a heat-protectant spray on your hair before styling it.
#4. Use caution when brushing the hair.
Since many ombre wigs have thin hair strands, it's crucial to brush them gently. Use a wide-toothed comb or a wig brush. Don't scrub too vigorously.
Gently undo any knots you come across as you ascend, starting at the bottom and working your way up.
#5. Keep the wig in the right storage.
When not being used, it's crucial to preserve your ombre wig carefully to prevent damage. The ideal place to store a wig is on a mannequin head or wig stand. In the event that you lack a wig stand or mannequin head, you can instead keep your wig in a clean, dry paper bag. Simply be careful not to place your wig in a plastic bag as this may cause it to become moist and encourage the growth of mildew.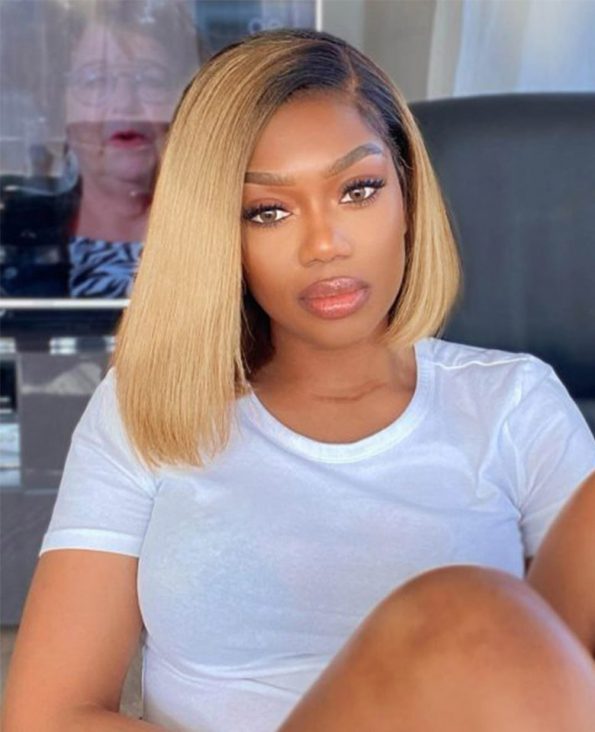 Bottom line.
Ombre wigs are made of real human hair and available in a variety of hues that are progressively blended. As opposed to freehand highlighting, there is a less smooth change from one hue to the next. Your face will appear more youthful and your hair colour will shift with an ombre wig. Numerous advantages of ombre hair extensions include a better appearance and the capacity to alter one's appearance without having to grow one's hair out again. Nevertheless, ombre human hair wigs are the best choice if you want to seem like a star without spending a lot of money.
Depending on the kind and length of your natural hair, an ombre wig can be either subtle or striking. All hair lengths and styles may use it, making it a flexible alternative. To give them more depth, longer wigs can be used with short bob hairstyles. An ombre lace front wig can be purchased in lengths up to 28 inches if you currently have long hair, and want to keep that ways. To keep it from tangling and collecting dust, you should constantly remember to store it carefully.
There are many different types and hues to choose from, whether you prefer highlights or ombre wigs. These wigs are simple to care for and can be quickly styled to give you the appearance you desire. For continued good looks, you may clean them frequently. They may also be used to make whatever style design you like. In addition, ombre wigs are quite simple to style. They can be worn on important events like prom or work days.
If you want to attempt an ombre wig, there are a few things you need to be aware of. We have covered those elements in this essay. We're hoping it will provide you the information you need to decide.