In the world of beauty and fashion, the versatility of hairstyles plays a significant role in defining one's individuality and enhancing their overall appearance. Deep wave human hair lace front wigs have emerged as a popular choice for those seeking to experiment with various hairstyles and transform their look effortlessly. These wigs offer a seamless blend with natural hairlines, making them a go-to option for both celebrities and everyday individuals. In this article, we will explore the allure and benefits of deep wave human hair lace front wigs, along with styling tips and maintenance guidelines, so you can make an informed decision and embrace your new look with confidence.
The beauty of deep wave human hair lace front wigs.
Deep wave human hair lace front wigs are crafted from 100% natural human hair, ensuring a remarkably realistic appearance. The deep wave pattern, characterized by its rich and voluminous curls, creates a captivating and glamorous effect. Whether you desire to sport a chic and sophisticated look or unleash your inner diva, these wigs provide a wide range of styling possibilities that cater to every taste and preference.
Seamless integration with natural hairlines.
One of the most significant advantages of deep wave human hair lace front wigs lies in their construction. The lace front creates an illusion of a natural hairline, making the wig virtually undetectable when applied correctly. This feature allows wearers to style their hair away from their faces with confidence, showcasing the stunning curls of the deep wave pattern without revealing the wig's presence.
Versatility and styling options.
Deep wave human hair lace front wigs offer an abundance of styling opportunities. Whether you wish to wear your hair in an elegant updo, sport a casual ponytail, or simply let the waves cascade down your shoulders, these wigs adapt effortlessly to any desired look. Their adaptability makes them suitable for various occasions, from everyday wear to formal events, adding a touch of glamour to every appearance.
Enhancing your natural beauty.
The ability to transform your look with deep wave human hair lace front wigs enables you to experiment with different hairstyles and colors without causing any damage to your natural hair. This versatility allows you to discover and accentuate different facets of your beauty, boosting your confidence and overall self-esteem.
Choosing the right wig for your face shape.
While deep wave human hair lace front wigs suit a wide range of face shapes, understanding the nuances of selecting the perfect wig for your features is essential. For individuals with round faces, longer wigs that elongate the face are ideal, whereas those with oval faces can experiment with various lengths and styles. Heart-shaped faces can opt for wigs with fullness around the chin area, while square-shaped faces can benefit from softening their features with layered styles.
Styling tips and techniques.
To achieve the most natural and seamless look with deep wave human hair lace front wigs, there are several styling tips and techniques to consider. Properly securing the wig using adhesive or wig grips ensures that it stays in place and maintains the natural hairline illusion throughout the day. Additionally, using heat protectants and gentle styling tools will help preserve the integrity of the wig's curls, ensuring it maintains its gorgeous deep wave pattern over time.
Maintenance and care.
To prolong the lifespan of your deep wave human hair lace front wig, proper maintenance and care are crucial. Regular washing, conditioning, and deep conditioning treatments are essential to keep the wig clean, soft, and hydrated. It's also essential to store the wig properly when not in use, protecting it from dust and tangling. With the right care routine, your wig will continue to look stunning and maintain its natural beauty.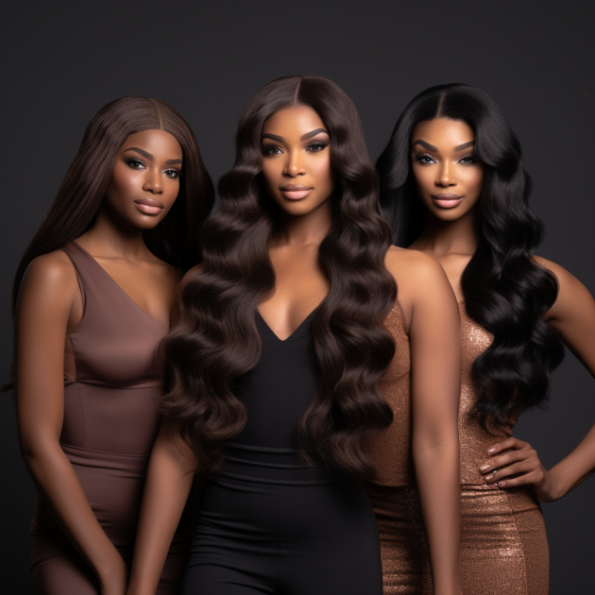 What kind of hairstyles can I do with deep wave human hair lace front wigs?
Deep wave human hair lace front wigs offer a wide range of styling possibilities, allowing you to experiment with various hairstyles and create different looks. Here are some popular hairstyles that can be achieved with deep wave wigs:
Loose waves: The natural deep wave pattern of the wig creates beautiful loose waves that can be left down for a romantic and effortless look. Simply run your fingers through the waves to enhance their volume and texture.
Half-up, half-down: For a versatile hairstyle, you can pull back the top section of the wig and secure it with bobby pins or hair ties, leaving the rest of the waves cascading down your shoulders. This style combines the elegance of an updo with the allure of loose waves.
High ponytail: Gather all the hair from the wig and secure it into a high ponytail for a sleek and polished look. To add extra volume to the ponytail, you can tease the hair slightly at the crown before tying it up.
Braided styles: Deep wave wigs can be incorporated into various braided hairstyles, such as fishtail braids, Dutch braids, or French braids. You can create braided updos, side braids, or incorporate braids into half-up styles for a trendy and intricate look.
Bun or top knot: Pulling the hair from the wig into a bun or top knot is a classic and elegant hairstyle. You can create a sleek, neat bun or opt for a more tousled and casual top knot. Adding accessories like hairpins or headbands can further elevate the style.
Side swept: Sweep the hair from one side of the wig over your shoulder for a glamorous and feminine look. You can enhance the waves on the swept side for added texture and dimension.
Vintage-inspired updos: Deep wave wigs can be styled into vintage-inspired updos like victory rolls, pin curls, or retro waves. These hairstyles exude a timeless elegance and are perfect for special occasions or themed events.
Pixie or short hairstyles: If you have a deep wave wig with a shorter length, you can style it into a pixie cut or other short hairstyles. Use styling products to define the curls and create a chic and edgy look.
Deep wave human hair lace front wigs you should have a try.
Glueless 5×5 13×4 HD Lace Wig Bouncy Deep Curls 180% Density.
This wig combines the convenience of a glueless design with the beauty of bouncy deep curls. With a 5×5 and 13×4 HD lace, it offers a natural-looking hairline and versatile styling options. With a density of 180%, it provides fullness and volume for a glamorous and stunning appearance.
Airy Cap Deep Wave Glueless Wear Go Wig 5×6 13×5 HD Lace Wig.
Experience comfort and style with this airy cap deep wave wig. The glueless design allows for easy wear and removal, while the 5×6 and 13×5 HD lace ensures a seamless and natural hairline. The deep wave pattern adds texture and movement to your look, making it perfect for everyday wear.
Pre Cut Lace | Deep Wave Wear And Go 4×4 5×6 HD Lace Glueless Wig.
Simplify your styling routine with this pre-cut lace deep wave wig. The 4×4 and 5×6 HD lace provide a realistic hairline, while the glueless design offers hassle-free wear. The deep wave pattern creates a captivating and voluminous look, making it a go-to choice for effortless glamour.
Don't think, just do.
Deep wave human hair lace front wigs offer an incredible opportunity to transform your look and embrace a new sense of style and confidence. The natural appearance, seamless integration with natural hairlines, and versatility of deep wave wigs make them a top choice for individuals seeking a glamorous and stunning hairstyle. By understanding the benefits, styling techniques, and maintenance guidelines discussed in this article, you are equipped to make an informed decision and embark on a transformative hair journey with deep wave human hair lace front wigs. So, go ahead, explore your options, and let the waves of beauty and elegance redefine your look.