If you have kinky straight hair or kinky straight hair wig, you should probably be proud of it because it is in fact an attractive trait. You will have to put up with dry, brittle curls that are simple to split or break if you don't take adequate care of your kinky hair, though.
In order to learn three fundamentals regarding kinky straight hair wig care in just 10 minutes, let's follow us.
Understanding the different forms of kinky hair is essential for providing proper treatment.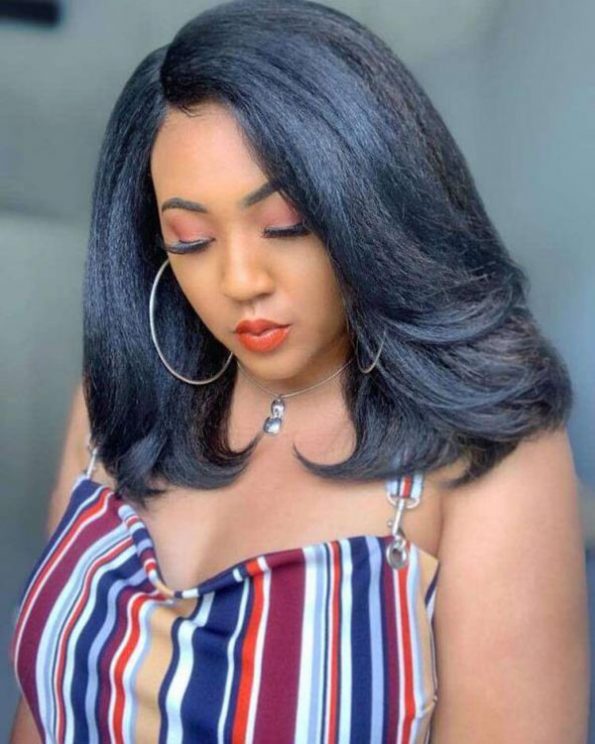 Kinky straight hair: What is it?
A beautiful and engaging texture to wear. When it comes to texture, "kinky" defines the curly or wavy pattern of hair. Curly hair is formed as a spiral or wave, whereas kinky hair has a torsion twist, which is the only discernible difference between the two types of hair (permanent crimp). For curly and large volume styles, this hair's waves or kinks work beautifully. large, bouncy hair. A really fluffy kinky straight. Hair that is extremely silky and curly never sheds nor tangles. It closely resembles a blowout that wasn't loosened. The same as yaki straight, kinky straight is extremely strong and long-lasting. The upkeep is simple. Without tangling or matting, you may wear curly hairstyles. Be sure to condition and moisturize kinky straight hair. For a frizz-free finish, use a ceramic iron or flexi rods.
Variations on kinky hair.
Learn about the common forms of kinky hair before learning about how to take care of them. You can only think about and select the finest approach if you are completely aware of the kind your hair falls into.
Kinky curly hair.
We are reminded of the contributions of black women to Africa by their kinky curly hair. Kinky curly hair, as the name suggests, has a texture that is a combination of curly and kinky hair. Hence, trying to untangle, wash, or simply live with that sort of hair is never simple.
Kinky curly hair is continuously gaining appeal among users due to its novelty. It is conceivable that you could maintain it in almost immaculate shape without any concern for damaged curls or so as long as you learn the fundamentals of this type of curly hair care.
Kinky twist hair.
You've probably heard of twist, as was discussed in the first section of kinky hair care. Consider the image now and try to visualize what a twist actually is. As a hair strand twists, it adopts its own direction as the centre of rotation, resulting in a permanent crimp.
Think of it as having to flip a cloth counterclockwise on one side and clockwise on the other to wring it out. It may be compared to a twist in kinky twist hair in the most basic way.
Kinky straight hair.
We'd like to add one more popular variety of kinky hair that women prefer before going on to the section regarding kinky hair care products: kinky straight hair. The word "kinky straight hair" seems to have an inherent contrast, and you could wonder if it really does or not.
We would explain that kinky straight hair is genuinely Indian kinky virgin remy hair to put your doubts to rest. It straightens, colours, and retains curls really wonderfully. Whichever method you choose to use to straighten kinky straight hair is OK. As a result, this particular form of kinky hair is so named for its distinctive characteristic.
Hair care products for kinky hair care advised.
To be honest, maintaining curly hair is a lot more difficult than maintaining straight hair. If you have any of the kinky hair types mentioned above, you need be considerably more cautious while selecting hair products. There is no one size fits all since they are all unique.
Further care, such as controlling frizz and using a nourishing scalp treatment, should be urged because kinky hair is destined to be dry.
Shampoo for kinky hair maintenance.
A good cleaning regimen is the first step in protecting your gorgeous curls. Oily shampoo or soft shampoo is recommended for kinky hair, which is known to be dry. For kinky hair care, it is advised that you choose sulfate-free shampoos that are packed with organic components so that your hair won't be stripped.
Detangler and leave-in conditioner for kinky hair.
The absence of leave-in conditioner or detangler products from any article regarding kinky hair care will be noticed. Why? Individuals who have really thick hair will be aware. Since kinky hair is more difficult to comb through than straight hair, detangling is no joke. You need to comb through completely until there are no knots left in order to evenly distribute items over your kinky hair.
Keep in mind that combs and curls are enemies. When it comes to kinky hair care, they resemble battle foes more. Use your fingers to gently untie any knots in your hair if they become caught. Yet it takes time and irritates me in some way. Hence, owners of hair should benefit from the proper detangling solutions, which may make all the difference in the world.
Use it as a conditioner or leave-in after washing your hair to start. Initially, a wide-toothed comb is advised to remove knots from kinky hair. Following that, softly rinse, then evenly spread the conditioner.
Products to care for kinky hair that enhance curls.
The first step in correct kinky hair care instruction is selecting the appropriate shampoo and detangler. To guarantee you have lovely, bouncy, and curly ringlets, giving up chemical relaxers is insufficient. Nonetheless, you require a curl-enhancer.
Kinky hair remedies that are all-natural.
A high-quality human hair wig is not something grow on the tree, therefore you have the right to embrace your charm by taking good care of it. How to take care of kinky hair at home is a subject that is commonly addressed, and my recommendation is to use natural remedies.
Your body in general and your hair in particular benefit solely from nature. Natural solutions are available to preserve your life while chemicals cause your kinky hair to suffer from delicate to permanent damage. You can have the ideal items for your unique hair care needs at home right away by following some advice.
Recipe 1: Avocado, coconut milk, and honey are the ideal combination for kinky hair treatment (recipe 1).
Use this concoction as a new shampoo for your wig hair.
Rinse after leaving it in place for 30 to 60 minutes.
Benefits: restore smoothness and gloss to the hair while conditioning and strengthening it.
Recipe 2: Yogurt and papaya are simple to combine for at-home kink hair treatment.
Use to naturally remove product buildup and residue from your hair and to keep your curly hair shiny and silky.
1 raw papaya and 1/2 cup of yogurt are blended together.
Apply to the hair and scalp and leave for 15 to 30 minutes.
Recipe3: Blender DIY treatment for kinky hair using recipe 3, banana, oil, egg, and milk.
Use to re-establish the suppleness of hair and stop split ends and breakage.
How to blend: Put one banana, five teaspoons of oil, one egg, and a few tablespoons of milk in a blender and blend until smooth.
Next, rinse your hair well with conditioner after 15 to 30 minutes of properly soaking it in this combination (read the list above to learn which conditioner is advised).
You may now comprehend the fundamentals of taking care of curly hair thanks to these pieces of knowledge. You must pay close attention to your unique hair type, suggested products, and home remedies in order to preserve your attractive hair. I'm confident that you can save time and money on kinky hair care if you read this post in its entirety.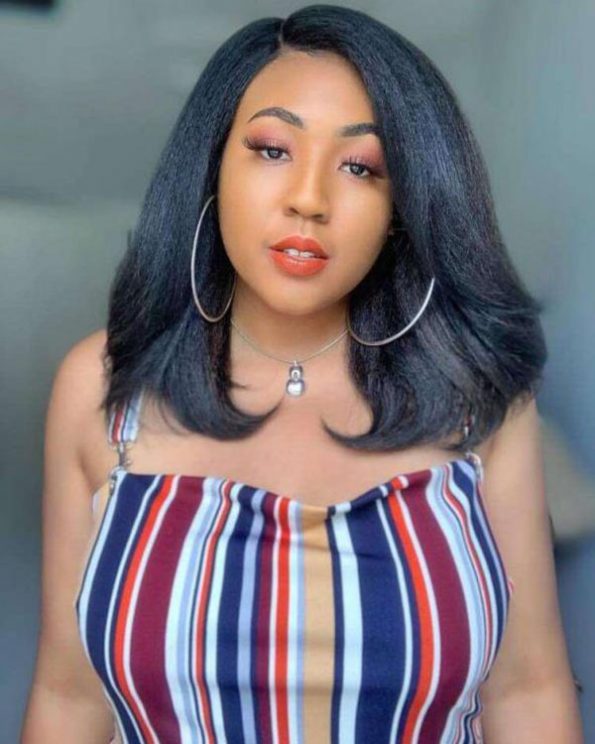 Question and answer sessions.
Q: Can you recommend a recipe for conditioner for kinky hair?
A: You may make your own conditioner using one avocado, one-half of an unrefined shea butter, one-fourth cup of virgin olive oil, and two to three teaspoons of apple cider vinegar.
Usage: Particularly for thick, heavy, naturally kinky hair, this makes detangling simpler and provides appropriate lubrication.
Apply this combination to your hair and let it sit for 30 to 45 minutes while wearing a shower cap. As normal, untangle and rinse.
Q: How can a wig be securely removed?
A: Depending on the technique you use, uninstalling it is actually simpler than adding it. You must locate every stitch where the hairpiece was stitched in and snip the thread, if your wig is use sew-in method in the first place. Because you don't want to harm the wig or cut any hair, proceed with extreme caution.
Have a friend assist you if there are regions in the rear that you can't see. The wig just falls off once all of the thread has been removed. When taping, separate each piece of tape one at a time. Avoid yanking or pulling too firmly; be cautious and gentle. You will require adhesive remover when using glue, which you apply to the glue or gel. You will just need to clean off any leftover adhesive from your skin and the hairpiece when the wig readily detaches as a result of this.