A sensational hairstyle is the desire of every woman. With hundreds of hairstyles in the market, it can be challenging to find the perfect one. You have to consider several things like wig length, wig texture, hair materials, density and lace type to get the perfect looking.
Among all the factors, hair length is very important. If you do not get a wig of the right length, your expensive wig may fail to deliver the amazing feeling you want. Especially for wig beginners, it is hard to choose a suitable length. Today let's talk about how to choose the right length of lace wig.
As usual, there are three length levels: short-length, mid-length, and long-length. Different length has different styles and feelings.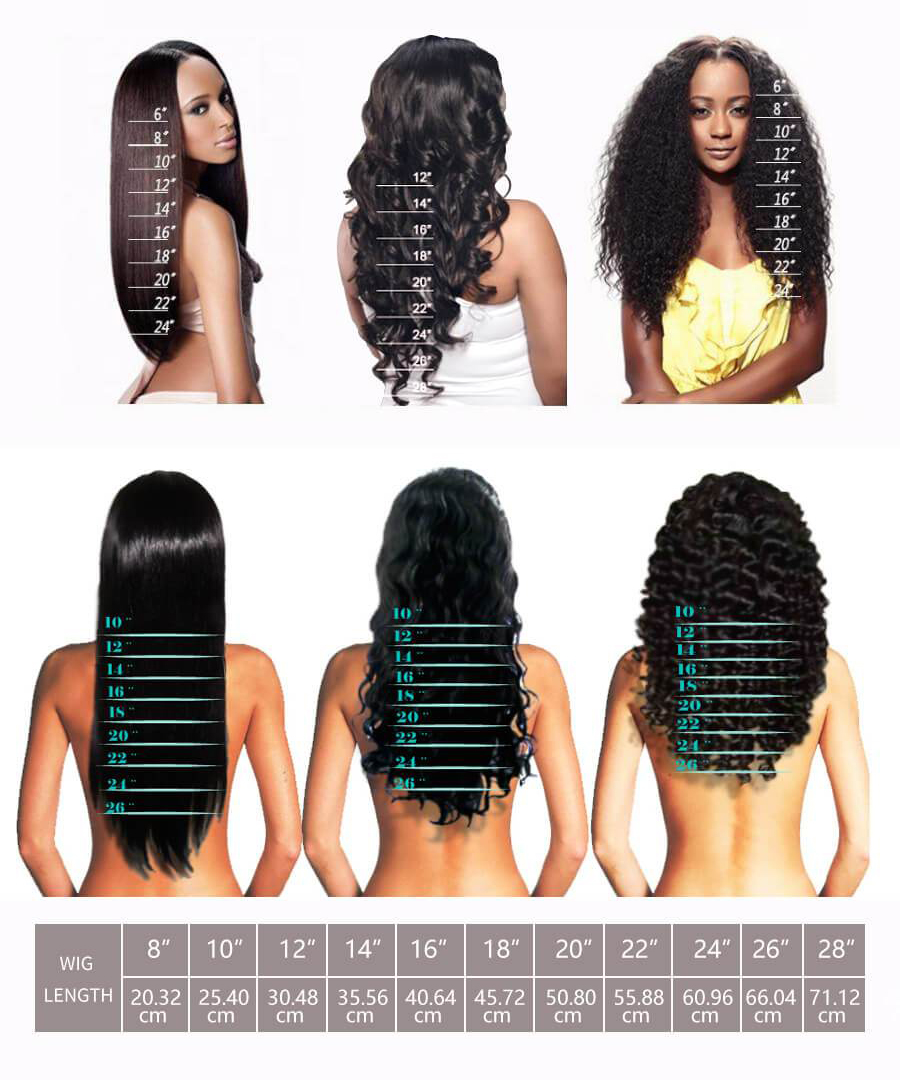 1. Short-length
As to the short-length, it says that the length is about 12 inches. Short-length hair wigs always show you clean and chic looks. Sometimes it is also cute and active. What's more, this kind of wig is very easy to install and maintain. All over the year, short wigs are always popular. Besides the natural color bob wig, there are some colored bob wigs in our store which you can have a try.
2. Mid-length
The mid-length is about 22 inches. If you don't know what length is suitable for yourself, this will be the best choice for you. If you are tired of short hair, you can try this mid-length wig, and get a different feeling.
3. Long-length
The long-length of the wig is about 30 inches. You know that the long-length will keep you warm, and it is also charming and fashionable in cold days. Of course, if you don't need to consider the price, long wigs will not let you down.
After learning about the hair length details, do you know how to measure the hair length? Like most women, you might also think that wig length is simply the measure of the hair on the unit from end-to-end. While this is true, buying a wig based on this understanding may result in you getting a wig that appears shorter than what you expected.
Different wig textures of the same length may provide different appearances when it comes to their length. This is because the hair strands of wigs of different textures may be curly or wavy.
HOW TO MEASURE
You can use a wig head to measure the wig length. If you do not have a wig head, you can simply place the unit on a flat table to measure the hair length.

1: Place the wig on a wig head or lay it flat on the table. If you have a curly or wavy wig, straighten the hair gently as much as possible.
2: Use a soft measuring tape to measure the longest hair strand on the unit. Make sure you measure it from the crown of the hair till the end of the hair strand.
3: Note down this measurement. If you have a wig that does not have an asymmetrical cut, you can follow the steps above to measure the hair length of different sections on the unit. This will give you an accurate idea of how long the hair is in each section.
In a word, hair length is very important. The right wig length and texture can make you look gorgeous and elegant. Let our wig length introduction be your guide to find out which hair length complements you the most. If you still have no ideas, pls contact Mscoco Hair via our email, admin@mscocohair.com. We are waiting for you all the time!