How can I wear a wig with glasses is one of the queries I receive the most frequently. The first time I wore a wig, I asked myself the same question. For many individuals, wearing glasses is a need, although balancing the two can occasionally be challenging.
How can you wear both well without using contact lenses or a wig? Welcome to this essay, which I hope will clear up any misconceptions you may have.
You may want to go for a premium, breathable wig depending on how it feels on your head and the state of your glasses. When glasses are worn with a wig that is already unpleasant, the discomfort may increase.
All of MscoocHair wigs are created from 100% human hair, and MscocoHair strives to offer everyone wigs of greater quality and better appearance. Wigs made of human hair are extremely comfortable and breathable.
We choose wigs with open weft structures for our wigs for wearing glasses. Put your glasses in the weft, which will rest securely behind your ears, just to be safe. Click here to find out more about the human hair wigs offered by MscocoHair.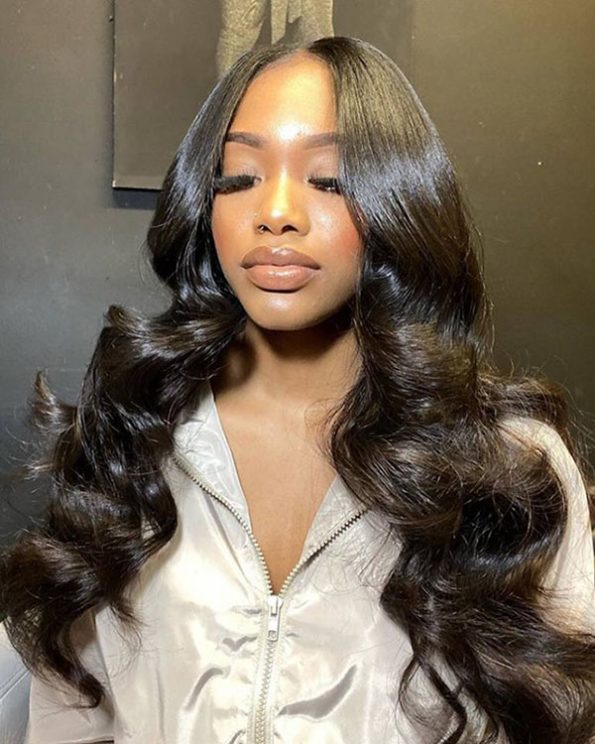 I. Exact measurements.
Make sure your V part wig fits your head before wearing it if you intend to wear it with glasses. Measure your head size properly before purchasing a wig. To acquire reliable results, you'll need to take many measurements. If your wig is excessively big, it will not fit properly on your head, and the ear tabs will fall too low, interfering with your spectacles.
Ear tabs are commonly found on wigs. Ear tabs are optional and stitched into the bottom of the wig for comfort. Always be cautious! Make no attempt to shove your spectacles into the ear tabs. The glass arms may break and injure you if you force the tabs in.
II. Hide the wig earrings beneath the arm of the spectacles.
You can prevent your glasses from feeling unpleasant on your wig by deftly tucking the arms of your spectacles behind the draw tabs. By doing this, you can hold your glasses firmly in place on your face and feel safe and secure.
III. Attach the ear pieces of your V part wig on your spectacles.
If it makes you feel strange or uneasy to tuck your glasses' arms under your wig's earpieces, wearing your glasses on top of them is a terrific alternative. Additionally, some people find it more comfortable to wear their glasses in this manner. The comfort and attractiveness remain unaffected in any manner.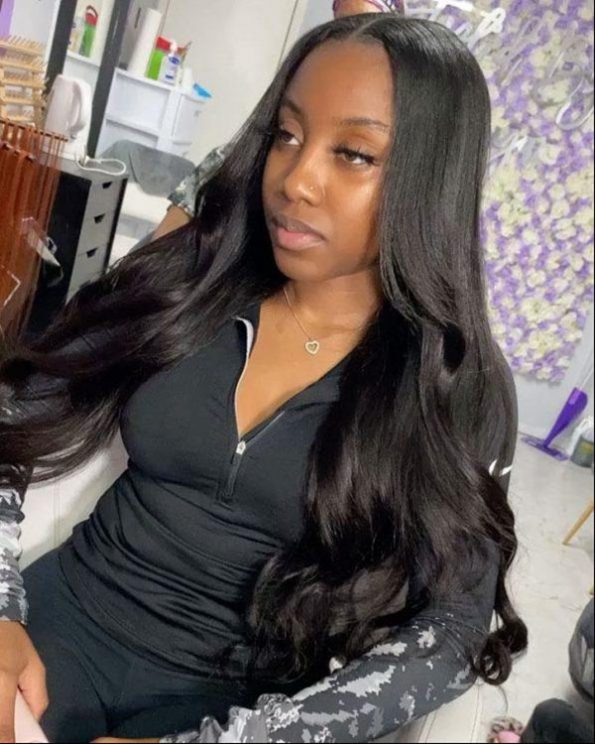 IV. Slightly adjust the metal wig brace.
You may slightly raise the metal brackets on your ear tabs to provide additional space for your glasses to fit comfortably. Alternatively, if your ear tabs are open, you may ensure a tight fit by inserting your spectacles through the little hole in the ear clasp. Please do not push your glasses through them though, since you risk breaking them.
This is also possible with open weft caps. Wigs with an open-weft structure are inexpensive and keep your head cool all day. To keep your glasses safe and prevent their lenses from moving around, you can carefully tuck them into the weft.
V. Ask an optician for assistance.
After putting on your wig, you can see an optometrist with your glasses to have them adjusted. This may make wearing your wig and glasses more comfortable for you. Going to the store where you bought your glasses is preferable because this is probably free.
There are no strict guidelines for how to wear a wig, so do your study to find what suits your face and your needs the best. The most crucial factor is that you feel at ease and assured. V part Wigs may remarkably boost confidence when worn correctly.
I. There isn't a one-size-fits-all approach to donning a wig and spectacles at the same time. If the strategy we provide doesn't work for you, you don't have to make a sacrifice.
II. You get better with practice. Try out various approaches to see which one suits you the best.
III. Please refrain from growing your natural hair excessively long if you must wear a wig for an extended period of time.
IV. To keep the arms of your spectacles in place, use a little piece of wig tape.
Feedback.
We really hope that our wig wear-with-glasses advice was useful to you! Contact us or leave a comment below if you have any questions.