In the hair industry, human hair lace front wigs have established themselves as a staple. One of the most popular haircuts for many ladies is a red lace front wig because of its striking appearance. We may modify our hairdo with a red hair wig without really changing our hair or spending a lot of time at the salon. The basic knowledge about red lace front wig are discussed in this blog post. Identify them if you can. Are you prepared to follow us as we explore the solutions?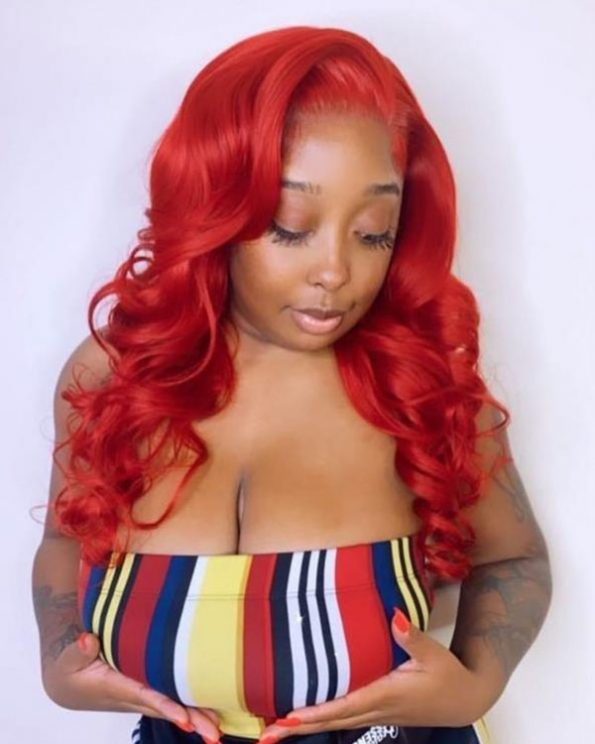 Who can wear a red lace front wig?
Red is a versatile colour, despite popular belief. Any skin tone can wear red because of the variety of hues and tints available. As we often say, tone is important, so as long as you can select the ideal red shade for your skin tone, you'll look fantastic.
The current fashion for dark roots, whether done in a dip-dye, T-color, or ombre style, might help you break up the color.
The deepest and lightest tones of red will complement your skin tone if you have a paler complexion, and ombre effects or highlights are best if you want a subtle or ultra-chic style.
The red color family includes strawberry blondes, and while there are wonderful dark reds, such as burgundy, they can make lighter skin tones appear paler.
Golden copper reds and lighter auburns are ideal if your skin has yellow undertones, but keep in mind that really dark reds that err toward purple might seem yellow.
The brightest reds could be very dramatic if you have a darker complexion (despite the fact that they can still match your skin tone). The deeper reds, copper tones, and burgundy are fantastic places to start, either as an all-over colour or T-color, if you're looking to get a subtle style. Scarlet red is the obvious choice if you want to make a statement.
Choose colours that include a tint of red, such auburn or copper browns, if you have red hair for the first time.
Several red wig variations.
From the very darkest to the lightest brown, the reddish brown hue is available in a wide range of tones. Red hair tones include:
Dark red: A dark red that is similar to wine red, dark red with a hint of purple, and much more beautiful.
Purplish red: Maroon red, which is also known as that shade of dark red, is a warm, melancholy colour that stands for loyalty.
Carnation: Light red.
Rose madder.
Passionate reddish-brown: Outside, it seems orange-red.
Maple reddish brown.
Bambi warm reddish brown: Without selecting on certain individuals, it is simple to govern. In addition, whether glossy or matte, it will disclose a subtle red tinge in the sun.
Mulberry.
Pale peach roses: Represents modesty.
Reddish orange.
Fuchsia brown berry color: Using reddish brown as the basis, a little purple tone should be added; this may be changed for ladies with poor skin tones.
Fuchsia red.
Geranium pink.
A lace front wig: what is it?
The term "lace front wig" describes a wig that has a very small, transparent section of lace mesh attached to the front of the wig cap. The front of the wig cap is covered with an almost undetectable lace portion that extends from temple to temple. As most lace fronts are already precut and individually hand knotted to the lace in an uneven pattern, style or trimming is typically not necessary. They give the item a more natural appearance overall since they are designed to resemble a real hairline. An untrained eye would not be able to distinguish between a natural hairline and an artificial one, which is the intended result of the lace front. The difference is exceedingly difficult to tell apart on well-made, high-quality lace fronts. Lace fronts on human hair wigs are practically ubiquitous for big manufacturer items, while synthetic lace front wigs are typically standard on most medium to higher priced types. To produce a lace front monofilament wig for improved styling and adaptability, this wig cap feature is also frequently combined with a monofilament top or portion.
What makes a lace front superior?
The absence of a natural hairline is a clear sign that someone is wearing a wig. This issue is resolved with lace fronts. They look best when they are not trimmed uniformly because they subtly integrate the hairline with the forehead. A natural-looking hairline inspires self-assurance in the user and eliminates wig concern. Moreover, style freedom is available with a natural-looking hairline. To improve the natural look and improve the wearing experience, off-the-face styles and up-dos are made possible.
What kind of outfit suit the most with red lace front wig?
As a general guideline, it's best to avoid wearing matching red apparel if you have red hair, unless you're dressing up. Reds in either their brighter or deeper tones go well with silver jewellery. Both brighter and deeper colours of red blend nicely with yellow jewellery (made of brass or gold). Bright red hair may occasionally make yellow jewellery appear more cheerful, which is acceptable if that's your goal.
If you have chosen a 26″ red lace wig, in which case select your belts carefully, accessories like belts may be any colour because they are sufficiently far from the red hair to avoid clashing.
The rhyme "red and green shall never be seen" is entirely fictitious; people only say it when they don't like a colour combination like yellow and green, red and green, or green and green! Red tends not to clash with other colours.
Use apparel that complements the temperature of the red lace wig on your upper body if you wish to hide its colour (Darker tops will therefore lessen the impact of your hair colour if you use a burgundy red lace wig).
It's simple to apply the concept that the more subtly red anything appears (such strawberry blondes and auburns), the less striking the look, and the more strongly red something appears, the more stunning the look.
Get the red lace front wig that is on sale.
One of the best strategies to choose to have a new red lace front wig is in this manner. Just browse the web and place purchases whenever you want a unique red wig! Nowadays, many wigs may be purchased on websites like Facebook, Instagram, Google, etc. As there are so many alternatives, customers are able to choose the hair extensions they want. It is undeniable that many celebrities choose red wigs over all other colours.
The supplier's supply of wigs is still available for purchase. Also, you might request that they create a new wig that complies with some of your specific needs. Let's examine this method's benefits and drawbacks in more depth.
Advantages.
Saving time is possible.
Yes! Ordering brand-new red lace front wigs made of real human hair will allow you to save time and effort. Simply remain in your home, and the delivery service will bring hair items to you. Really practical! A red human hair wig is prepared to assist you in changing, particularly when you're pressed for time.
You can let the provider know what you need.
Excellent hair providers are constantly prepared to satisfy consumer needs. If they can, they'll strive to finish it for you fast. We fully get this since we also manufacture and ship a wide variety of wigs on the global hair market. We constantly work hard and are delighted to do so to satisfy every customer's need.
Disadvantage.
It's difficult to fully guarantee wig quality.
No worries if it's your trustworthy hair supply. What if this order comes from a brand-new hair exporter, though? Even if they claim their wig is made of Remy hair, the true quality of the wig won't become apparent to you until you have it. Be cautious and make sure you are working with a reliable hair address to avoid receiving hair of poor quality.
It might not match your expectations for hair color.
Due to the complexity of the red hue, the red shade is challenging to obtain. You could occasionally get a wig that is different from what you were expecting. A policy for exchange will be try by some. Some accept the hair since they think it could take some time to implement the exchange policy.
Step-by-step instructions for beginners on how to make a red lace front wig.
Are you prepared to select all of the important phases of a do-it-yourself wig? Follow along as I go over a thorough step-by-step instruction for making a red lace front wig with human hair in the paragraphs below. Here, the emphasis is on creating wigs using hair bundles and closures.
What you require.
Head of a mannequin.
Hair colouring dish in red.
Virgin human hai wefts (2 or 3 bundles)
Lace closure.
Stockings cap (elasticated wig cap)
Headed pins (optional but helpful)
Step one: Get ready.
If you want a flawless and comfortable wig, you need keep a few things in mind. Then, decide on the lace cap style. Choose between genuine human hair and synthetic hair next. Spend some time sewing the hair in place. Ensure that the cap's size suits your head. Don't forget to spend money on high-quality hair colour as well.
Step two: Red hair dyeing.
We strongly advise colouring your wig before building it if you would want to do so. Prepare red hair dye now, and then colour the wig as desired. Your colouring procedure will go much more smoothly since our bundle deals with closures are 100% remy hair in a natural black colour. Make step 3 only once the hair is fully red.
Step three: Create the wig base.
As lace closures are more flexible and simple to work with while blending your scalp, we assume they are an excellent option for routine wig manufacturing. You may cover the wig block with a cotton lace cap or similar fine net cap that suits your head. Make sure your piece effortlessly rests on your hair so that it appears to be emerging from your head.
Step four: Making a wig.
This phase is done following careful preparation of all required equipment. We advise using 3 bundles of wefts and 1 closure. Visit our collection right away to purchase. You can select from a number of sets of lovely human remy hair that we have.
There are several hair lengths for wefts and closures. If you want the increasingly layered style, you may pick one length, or you can choose various lengths to keep the overall length more uniform.
After you have everything, take your wig cap out and put it on your mannequin head. Pins should be positioned exactly where you think they will be most secure on the cap. Pin the closure in place and sew it to the hat after the job is done.
To wear the wig in a high ponytail, sew it beneath the edge of the cap. Then, sew securely attached wefts using the top-and-full technique. Before flipping over, don't forget to secure the weft's edge.
Step five: Wearing the wig.
Don't forget to check how well the wig fits. Cut the lace to fit you well. Put the wig away after removing it. Before putting on the wig, apply the wig tape.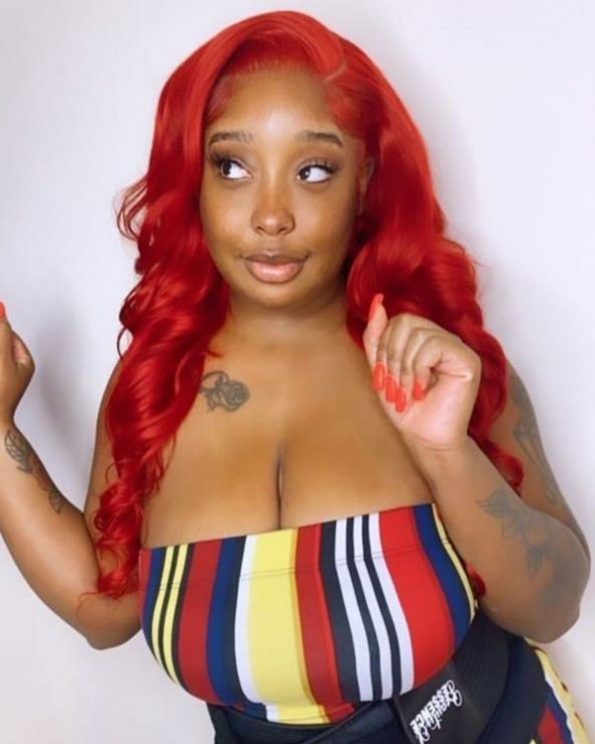 Maintaining red lace wigs.
To guarantee that the color of your customized human hair red lace wig doesn't fade, deep condition it using a conditioner made especially for red hair.
Moreover, keep in mind that dyeing human hair wigs again can reduce their lifetime and is not recommended for wigs that have already undergone colour processing.
In conclusion.
In the hopes of assisting you a little, we have offered some fashion advice in this piece on red lace front wigs. We want you to share any positive thoughts or issues you may have with us.