Your first curly human hair wigs you purchased is wonderful! The key query is: Do you know how to properly take care of it? We couldn't be happier. We're sorry to be a downer, but we would hate for you to waste the money you spent on a high-quality wig. Anybody who has a wig can attest to the fact that how you care for it throughout the day is the key to keeping it in top shape. There are many different types of human hair wigs available, including lace frontals, full lace, 613 blonde, curly, and more. For the sort of hair you are working with, however, other techniques might occasionally be advantageous. Due to the harsh chemicals used to make blonde hair, it could require a bit extra care, and you might need to wrap your straight wig to avoid applying too much heat from a flat iron. There is a certain method you may employ for each type of wig to extend its lifespan while maintaining its gorgeous appearance. You may wear this classic appearance time and time again with a curly wig since curly hair never goes out of style. Curly wigs need a bit more upkeep, but with the right curly wig care, they are simple to maintain over time. In this article, we'll go over how to successfully wash curly wigs and take care of them.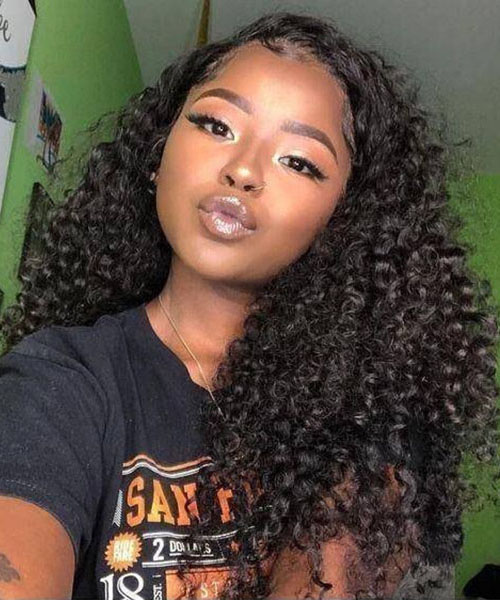 How are curly human hair wigs maintained?
Sectioning the hair is step one.
Sectioning off the hair is the first step in caring for a curly wig. Make smaller parts of the hair if your curly wig, contains tiny, tightly curled ringlets. You may divide your curly wig's hair into bigger portions if it has larger, looser curls.
Use a detangling spray.
The next step is to softly wet each part with a detangling spray. Be sure to utilize wig care products made for synthetic hair if you're working with a synthetic curly wig. Use only hair care products made for caring for human hair if you're working with a human hair wig.
Brush the hair gently.
Brush the curls carefully to get rid of knots. While brushing curly wigs, be careful to always use a wide-toothed comb. Ordinary combs and hairbrushes can cause shedding, damage the curls, and leave your wig appearing frizzy.
Reestablish the curls.
Your wig's curls need to be returned to their original style once any tangles or knots have been eliminated. Divide the hair into smaller portions for tighter curls and bigger sections for looser curls or waves depending on the sort of curls your wig has or that you want it to have.
Each curl may be softly twisted with your finger before restore its original curl pattern. If you see that your curls are not returning to their original shape, try twisting them in the opposite way.
Use a low heat and be careful to use a curling iron if you have a curly human hair wig to attempt to recover your curls. Also, you may curl your wig without using any heat.
Protectively store your wig.
Be sure to keep your detangled wig gently as the last step in taking care of curly wigs. To maintain the curls and avoid more tangling, gently cover the wig with a hair net. After that, to prevent dust from collecting on your wig, lay it flat within the bag or box it came in or put it into a plastic box with a tight lid.
Don't put your wig onto the ground, a counter, or a chest of drawers when it comes to wig maintenance; doing so may easily result in your curls being tangled and twisted.
How should I clean my curly human hair wig?
It is recommended to wash curly human hair wigs as infrequently as possible and only when absolutely essential. You might need to wash your curly wig if it starts to look greasy, loses its lustre, or is difficult to style. Here is how to gently wash a curly wig:
Different wig type need different wash method.
Determine if your curly wig is made of fibre or real human hair in the first place. Make sure you are aware of the finest and safest cleaning procedures for the particular type of curly wig you own. In our blog, you may find helpful instructions on how to wash real human hair wigs.
Get your basin full.
As soon as you've determined what kind of wig you have, you should fill a sink or bathtub with enough lukewarm water to completely submerge it. To avoid damaging the wig, avoid using water that is too hot.
Cleanse your wig.
Use wig shampoo once the entire hairpiece is damp. Apply the shampoo to the hair evenly and gently. After using shampoo, avoid scrunching the hair excessively since this can destroy your curls.
Check out our prior blog article for further advice on the wig care supplies you require.
Wash shampoo off.
After that, thoroughly rinse the shampoo from your wig. Rinse the hair from root to tip on a curly wig while the water is running in the same direction as the wig's hair to prevent tangling.
After all things is done, it's time to dry the wig.
Your wig should be carefully laid flat on towels after being carefully removed from the water. To help the wig dry, pat it down gently with another piece of fabric or towel. Your wig may lose its curls if you rub it dry, so patting it dry is crucial.
While the weight of the wet hair might stretch out your wig and harm your curls, we also advise against air-drying your wig on a wig stand or mannequin head.
What may be done to improve the realism of a human hair wig?
You can always apply some innovative techniques to make your wig appear more natural, no matter what style you select. The first thing you may do is ask your hairstylist to trim or style your hairpiece in a way that precisely accentuates the contour of your face. If you want a seamless appearance, colour is still another critical component. Putting on a black wig, for instance, will seem odd if you have an extremely light skin.
To complement your skin tone or natural hair colour, pick a colour that is similar to those tones. Another intriguing technique used by most individuals who wear wigs is plucking a few hairs from the hairline. The issue is that most wigs are uniformly thick throughout, in contrast to actual hair, which is typically thinner around the hairline. A flawless illusion may be made by removing a few hairs from above your forehead. The last tip we'd want to impart to you is to leave your baby hair out so that it is evident where the wig begins. Your hairline will also have a smooth appearance as a result.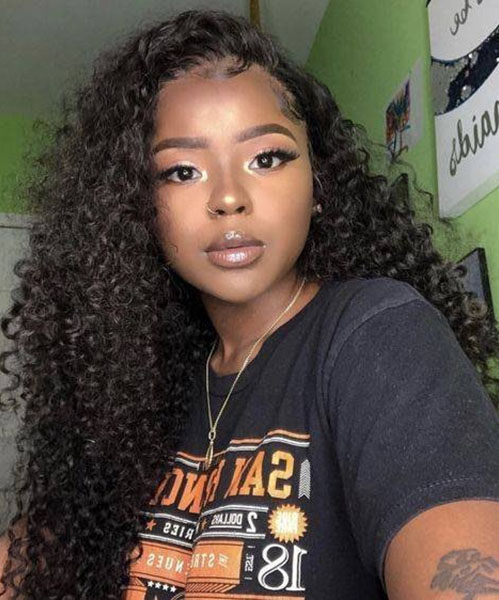 In conclusion.
You now have our recommendations for the best ways to maintain curly human hair wigs, how to wash curly wigs properly, and other related tips. Curly wigs require the proper maintenance to keep them looking good for longer, even if curly hair is a timeless trend.
Read our helpful wig care blog post for further maintenance suggestions on wigs. If you have any questions about curly wigs, don't be afraid to get in touch with us.