Wigs are a solution since fashion trends change but your head doesn't. Women of various ages are currently wearing wigs and making it fashionable. Even a few social media stars are encouraging young teen girls to adopt the highlighted wig trends in fashion. We are all aware that fashion trends come and go, but there is one look that has dominated the world of beauty for some time. Highlighted human hair wigs provide you the most natural appearance and sensation. Although wigs might occasionally be more expensive to choose, if they are only used with the right care, they can be made durable and long-lasting.
There are fashions that naturally come and go, particularly when it comes to hair color, whenever we talk about hairstyles and hairstyling trends. New trends and innovative techniques to color and highlight color are introduced with each season, and as these trends continue, women are increasingly choosing to wear highlighted wigs.
Today's fashion is increasingly prevalent with highlighted human hair wigs in a variety of fashion colors.
Wig use has gotten so simple and convenient. A woman spends about an hour in front of the mirror merely to style or repair her hair, according to an observation.
The hassle of creating ideal hair may be eliminated and a lot of time can be saved by wearing wigs.
Some women lead very demanding lives and find it difficult to find the time to take care of their natural hair in a nice way.
The only way to make up for this deficiency is to put on a wig that transforms them into a good-looking person quickly.
As a woman, we have all experienced how our hair can occasionally be so annoying and troublesome that it does not style itself the way we women want it to. Instead of wasting time trying to make your hair seem flawless, consider wearing a wig.
Girls frequently encounter situations when they are unable to create a flattering hairdo for oneself, even if it is a ponytail.
Use a highlighted human hair wig or weave to create a ponytail as one way to brighten up those days when your hair isn't doing its best.
Don't you worry about it, though; we have worked out just how you can slay your day with a beautiful hairstyle using a highlighted human hair wig.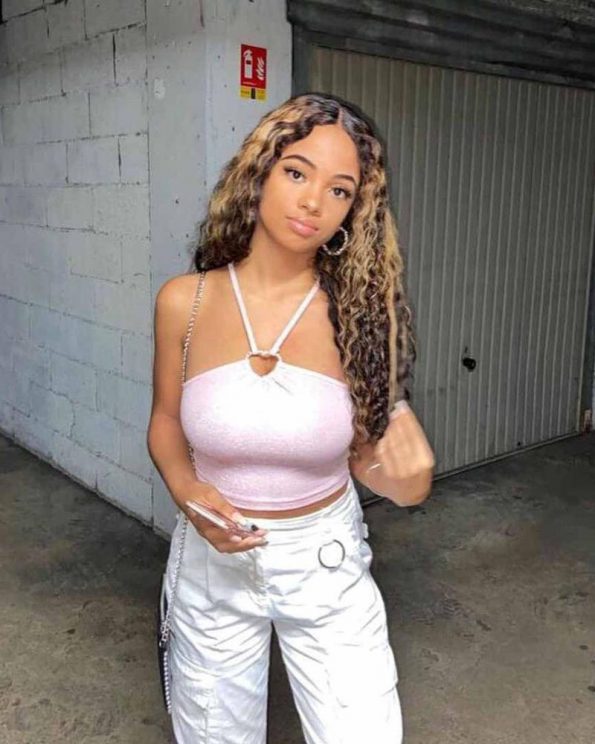 How can your highlighted human hair wig appear more natural?
What brand to buy or what style to wear are not the most crucial wig advice. When you concentrate on how you are wearing your wig and what characteristics you don't scrimp on, you will obtain the greatest and most natural results! Check out all you need to know (below) to step it up and make your wig seem perfect:
Color of the wig.
We offer your wig depth and a highly realistic appearance by creating the impression that your scalp is growing hair. This contributes to creating the appearance of natural hair. So if the concept of the rooted appearance or style is something you just can't get used to, Choose a color for your wig that has a blend of two or more hues if you can't locate one, since this will give you dimension. Almost the same effect as rooted colour is produced by highlighted color. Wigs with solid hues frequently seem unnatural.
Lace is the secret!
The appropriate color and high-quality hair—whether human hair or synthetic—are essential, but the most crucial component is the wig cap. A natural appearance may be attained without necessarily spending the most money on a wig.
A characteristic of lace front wigs provides you a hairline that is smooth, almost completely natural-looking, and gives the impression that your own hair is sprouting out of the hairline.
Since every hair is sewed in exactly as real hair develops… The appearance is considerably more natural and realistic.
Use heat and product.
Each wig's appearance may be improved with these basic tools. The use of a conditioner is crucial (make sure to keep the conditioner mostly at the ends). Also, our go-to method for taming the glossy appearance certain wigs may have is simply spraying dry shampoo or powder on the hair to reduce the gloss to a natural sheen.
To control flyaway hair and to assist your hairline stand up off your head, use the heat from your palms. Warm up your hands by rubbing them together. Next put your hand on the wig's top. Heat will assist with any unwanted flyaways and assist in providing lift where it is required.
Positioning of your wig.
The area in which you wear your wig will undoubtedly affect how natural it seems. You'll be able to tell if your wig is too low on your forehead. Make sure your wig is the appropriate size first. Then, we advise donning a mesh or nylon hat underneath. This will assist any hair that falls out from under the wig and will cover up your real hair. Your natural hairline should be exactly where your wig rests.
So, if you are trying to determine where your natural hairline would be if you had no hair, Make use of the 90° angle technique. Just place one hand on top of your head and the other should be held in front of your face facing upward. Create a 90-degree angle by bringing the fingers of both hands together. Your hairline is where the tips of your fingers converge.
The magic mix technique.
Combining a wig with your natural hair is one of our favourite tricks. You should wear the wig a bit further back on your head so that your natural hair is visible, leaving the front half of your hair out. For the best-looking seamless effect, shape your own hair to resemble the texture or curl pattern of the wig.
How to create a ponytail with a highlighted human hair wig (Step by Step)
To produce your last-minute hairdo or a perfectly styled highlighted ponytail, you must first have a lot of stuff on hand.
I. What you will need:
Having a list of the following items can help you create a ponytail with a highlighted human hair wig:
Highlighted human hair wigs or 4 piece bundles.
Oil for hair care: Use a good hair oil to protect your hair.
Hairspray: To keep your hair exactly in one place, use a hairspray.
Hair cream: To give your hair a natural and understated shine, use a styling cream or hair cream.
Straightener: Make use of a straightener of excellent grade.
Hairpins: You'll need some hairpins to hold your hair in place.
Hair reopes: You should have some hair ropes on hand to tie your hair up.
Comb: Use your ordinary comb, if you have one.
Hairdryer: You must own a reliable hairdryer.
II. Ensure hair safety.
The first thing that has to be taken into consideration is hair protection. It is advised to apply hair care oil to preserve your hair.
After putting the hair care oil to the hair, you may use a high-quality hair straightener to straighten your hair so that it can be tied up with a hair rope. If your hair is of high quality and can be tied up effortlessly, you can skip or move on to the following stage.
III. Organize your hair.
The next step is to style your hair. You can use a hairdryer and a hair moisturizing spray for this. Using a hair moisturizing spray, comb your hair repeatedly to give it a clean appearance. Baby hair can be left in to give your hairstyle a smooth appearance.
IV. Styling the baby hair.
The following step is the simplest and most relieving: style your little infant hair by combing it out. Fixing or keeping your baby hair in a spot where it is either too tiny for trimming or too frizzy for shedding is one of the major problems most people experience. In order to shape your baby hair as you like, use a hair cream.
V. Have a lovely ponytail.
Use the remaining hair around the braid till you reach the peak of your ponytail. After tying it up with hair rope, wrap the top of the hair. Use hairspray and a hairdryer as you tie the rest of them one more time.
Your flawless, gorgeous, and self-assured ponytail style with a highlighted wig is now complete and ready to go anyplace.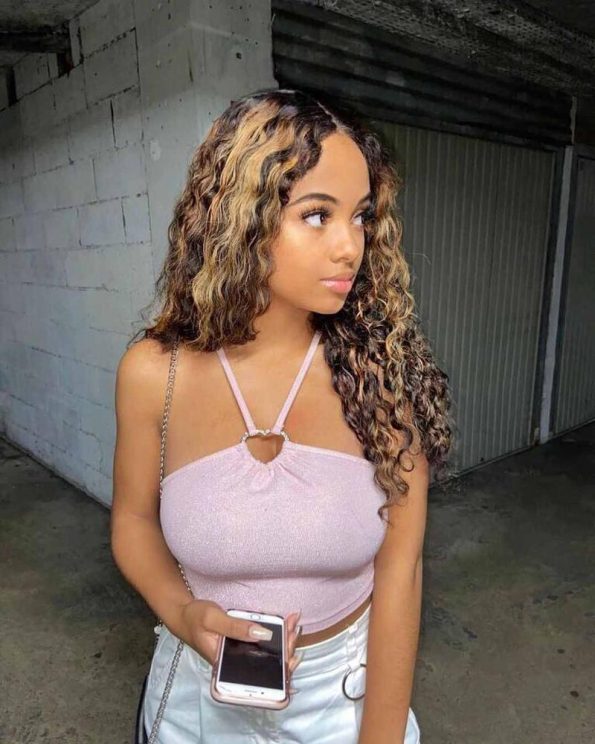 In conclusion.
Your highlighted human hair wig will unquestionably appear natural in the front if you follow the above instructions! Simply keep in mind to align the hairline properly, to raise the roots gently after each wash, and to control the baby hairs.
If you want to keep this page on hand for when your wig is acting up, bookmark or pin it! or if you're looking to purchase a new highlighted human hair wig!
Have you had any inquiries? If you leave a remark below, I'll be sure to respond.