With their adaptability and ease for people wishing to alter up their hairstyles, wigs have grown in popularity in the worlds of beauty and fashion. Among the many wig alternatives, kinky curly wigs and curly wigs are two of the most popular selections. It's crucial for wig aficionados to comprehend these variances in order to locate their ideal match since, despite their similarities in sound, the two wigs differ significantly.
In this comprehensive guide, we will explore the characteristics, styling options, maintenance needs, and suitability of kinky curly wigs and curly wigs. By the end, you'll be equipped with the knowledge needed to make an informed decision that aligns with your personal style and preferences. 
1: Understanding Kinky Curly Wigs.
1.1 What are Kinky Curly Wigs?
Kinky curly wigs are designed to mimic the natural texture of tightly coiled, afro-textured hair. The curls are compact, dense, and form small ringlets, resembling the characteristic "Z" shape. Kinky curly wigs offer a unique and distinct look that stands out from other wig types.
1.2 Styling Options.
The beauty of kinky curly wigs lies in their versatility. They can be styled in various ways, ranging from a big and bold afro look to more defined curls using curling creams or gels. Additionally, you can experiment with parting options to achieve different styles.
1.3 Suitable Face Shapes and Personalities.
Kinky curly wigs tend to suit individuals with round or heart-shaped faces, as the voluminous texture helps balance out facial proportions. Moreover, those with adventurous and bold personalities often gravitate towards this statement-making wig type.
1.4 Maintenance and Care.
Due to the coiled nature of the hair, kinky curly wigs require regular maintenance to keep their shape and avoid tangling. Gentle detangling with a wide-tooth comb and using products designed for curly hair are essential for preserving the wig's integrity.
2: Exploring Curly Wigs.
2.1 What are Curly Wigs?
Curly wigs, unlike kinky curly wigs, feature looser curls that are more relaxed and less tightly coiled. These wigs offer a more natural appearance, resembling the texture of wavy to loosely curled hair. Curly wigs provide an effortlessly elegant look that suits a wide range of occasions.
2.2 Styling Options.
Curly wigs allow for various styling options, from bouncy ringlets to a soft and natural wavy look. The curls can be further enhanced or loosened with the use of curling irons or hot rollers, offering versatility to match different preferences.
2.3 Suitable Face Shapes and Personalities.
Curly wigs complement individuals with oval, square, or heart-shaped faces, as the curls soften and flatter these facial structures. As for personalities, curly wigs appeal to those who prefer a more classic and refined look.
2.4 Maintenance and Care.
Maintaining curly wigs involves regular detangling and proper conditioning to preserve the curl pattern and prevent frizz. Additionally, storing the wig correctly when not in use helps maintain its shape and longevity.
3: Finding Your Perfect Match.
3.1 Face Shape and Wig Selection.
When choosing between a kinky curly wig and a curly wig, consider your face shape to determine which style will enhance your features best. Experiment with wigs or consult with a hairstylist to see how each style complements your face shape.
3.2 Personal Style and Occasion.
Consider your personal style and the occasions you plan to wear the wig for. Kinky curly wigs make a bold statement and are great for those seeking a unique and attention-grabbing look. On the other hand, curly wigs offer elegance and versatility for various settings.
3.3 Comfort and Longevity.
Comfort is key when wearing a wig for extended periods. Opt for high-quality wigs made from breathable materials that fit securely without causing discomfort. Additionally, consider the durability and longevity of the wig to ensure a worthwhile investment.
4: Finding Your Perfect Match.
When it comes to finding your perfect match in the world of wigs, there are several factors to consider. Whether you're looking for a wig to enhance your natural beauty, experiment with different hairstyles, or address hair loss, taking the time to explore various options will ensure that you choose a wig that complements your unique features and style preferences.
4.1 Face Shape and Wig Styles:
Understanding your face shape is crucial in selecting a wig that enhances your best features. There are various face shapes, including oval, round, square, heart, and diamond. Different wig styles can either accentuate or soften certain facial characteristics.
Oval Face: Lucky you! With an oval face shape, most wig styles will suit you. Consider yourself free to experiment with various looks, from short pixie cuts to long, flowing locks.
Round Face: To elongate your face, opt for wigs with height and volume on top. Layered and textured wigs can help create the illusion of a more elongated face shape.
Square Face: Soften the angles of a square face with wigs that have curls or waves. Side-swept bangs can also add a flattering touch.
Heart Face: Look for wigs with volume around the chin area to balance a heart-shaped face. Chin-length or shoulder-length wigs work well for this face shape.
Diamond Face: Enhance your cheekbones with wigs that have layers and volume around the chin and cheek area.
4.2 Hair Type and Texture:
Consider your natural hair type and texture when choosing a wig. If you want a wig that closely resembles your natural hair, look for one with a similar texture. There are various options, including straight, wavy, curly, and kinky curly wigs.
4.3 Lifestyle and Occasion:
Think about your lifestyle and the occasions for which you plan to wear the wig. Are you looking for an everyday wig or a special occasion piece? For daily wear, consider a wig that is easy to maintain and comfortable. For formal events, you might want a wig with a more elegant and polished appearance.
4.4 Wig Material and Construction:
Wigs come in different materials, including human hair, synthetic hair, and a blend of both. Human hair wigs offer the most natural look and can be styled and colored like natural hair. Synthetic wigs, on the other hand, are more affordable and come pre-styled. Consider your budget and desired level of maintenance when choosing the wig material.
4.5 Color and Shade:
Selecting the right wig color is crucial for achieving a natural look. If you want to match your natural hair color, choose a shade that closely resembles it. Alternatively, if you want to experiment with a new hair color, wigs offer a risk-free way to do so.
4.6 Try Before You Buy:
Whenever possible, try on the wig before making a purchase. Many wig shops and online retailers offer virtual try-on tools that allow you to see how the wig looks on you before buying. This will give you a better idea of how the wig complements your face and style.
4.7 Consult a Professional:
If you're unsure about which wig to choose, don't hesitate to seek advice from a professional hairstylist or wig specialist. They can assess your face shape, discuss your preferences, and recommend the most suitable wig options for you.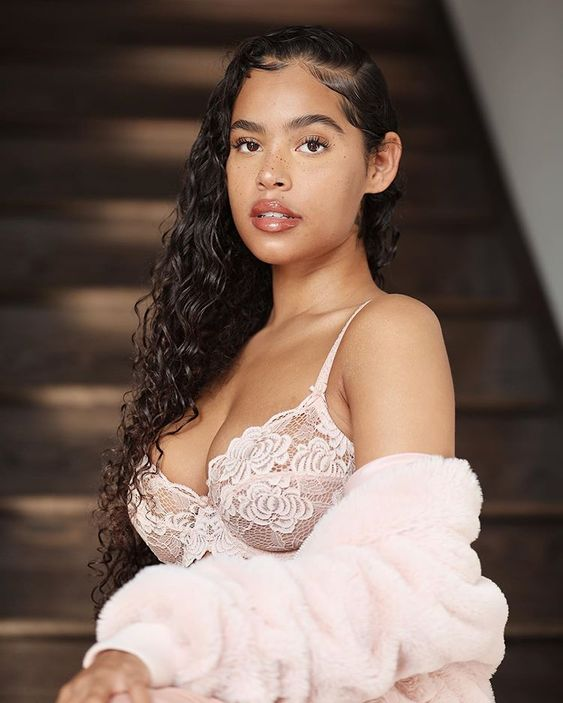 Can I straighten curly wig or kinky curly wig?
Yes, you can straighten a curly wig or kinky curly wig, but it is essential to do so with caution and the right techniques to avoid damaging the wig fibers. Most curly and kinky curly wigs are made from either synthetic hair or human hair, and the method of straightening will differ based on the wig material.
Straightening a Synthetic Curly Wig or Kinky Curly Wig:
Synthetic wigs are made from synthetic fibers, which can be sensitive to high heat. Before attempting to straighten a synthetic curly wig or kinky curly wig, check the wig's label or packaging for heat resistance information. If the wig is heat-resistant, follow these steps:
a. Use a Wide-Tooth Comb: Gently detangle the wig using a wide-tooth comb to remove any knots or tangles before applying heat.
b. Set the Flat Iron to Low Heat: If your wig is heat-resistant, set your flat iron or curling iron to the lowest heat setting. High heat can cause irreversible damage to synthetic fibers.
c. Section the Hair: Divide the wig hair into small sections to ensure even heat distribution and better results.
d. Straighten the Hair: Slowly and gently pass the flat iron through each section of hair, starting from the roots and working your way to the ends. Avoid leaving the heat on one section for too long.
e. Apply Heat Protectant: Before using any heat styling tool on a synthetic wig, apply a heat protectant spray to minimize heat damage.
Straightening a Human Hair Curly Wig or Kinky Curly Wig:
Human hair wigs can handle heat better than synthetic wigs, but they still require care when straightening.
a. Detangle the Wig: Use a wide-tooth comb to detangle the wig, starting from the tips and working your way up to the roots.
b. Apply Heat Protectant: Before applying heat, use a heat protectant spray or serum to shield the human hair from damage.
c. Set the Flat Iron to the Right Temperature: Human hair can withstand higher heat, but it's still essential to set your flat iron to an appropriate temperature. Start with a lower setting and increase if necessary.
d. Straighten in Sections: Like with synthetic wigs, divide the wig hair into sections for more effective straightening.
e. Use Smooth, Even Strokes: Glide the flat iron through each section of hair in smooth, even strokes to achieve a sleek and straight look.
f. Style with Caution: Frequent heat styling can cause damage to human hair wigs over time. It's best to limit heat styling and use heat protectant products whenever you straighten the wig.
Summary Up.
Choosing between a kinky curly wig and a curly wig comes down to understanding their unique characteristics, styling options, maintenance needs, and suitability for your face shape and personal style. Both wig types offer distinctive and beautiful looks, catering to different preferences and fashion sensibilities.
Ultimately, the perfect match depends on your desire for a bold and eye-catching appearance or a more refined and natural look. By taking the time to explore these wig types and considering your own preferences, you can confidently select the ideal wig to express your style and enhance your beauty with ease and comfort.