The kinky straight hair looks very fluffy and full, but if we don't pay attention to the maintenance of the hair, it can easily become very dry or damaged and cause tangles, breakage, hair loss and other bad wig problems.
If you're shopping for a kinky straight wig and you don't know how to keep fit, don't worry, let's read some tips below and you'll find out.
What is kinky straight hair
Kinky straight hair, also known as Yaki hair, is a hair texture. Also known as Yaki-straight hair is a popular term in the field of wigs, the kinky straight look will mimic the natural straight curls of people from the Afro-Caribbean region.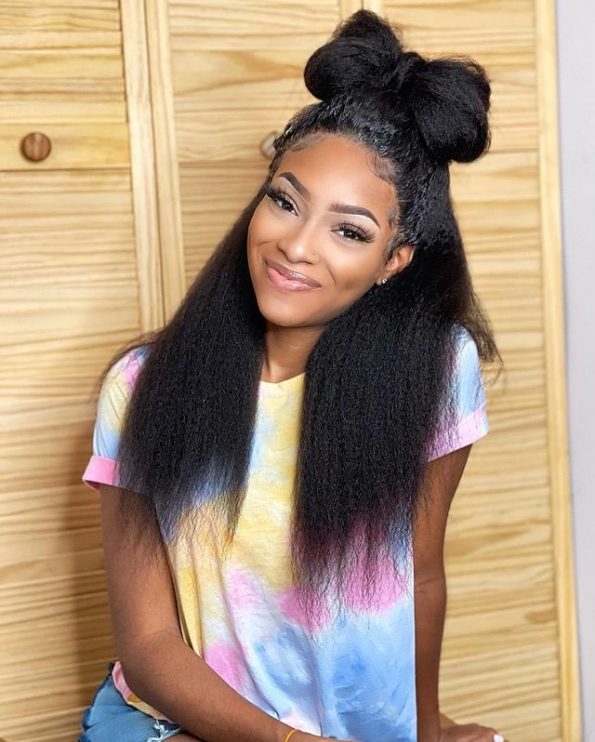 How to maintain kinky straight hair
1. Comb your kinky straight wig
Before cleaning the wig, gently comb it with your hand or a wide-toothed comb to remove any tangles. Make sure the comb you use is designed for the wig. For stubborn tangles, use a spray conditioner to help relax. But don't brush them when they're wet.
2. Moisten
I think moisturizing is important for kinky straight hair. Because the curved straight hair is relatively dry compared to other hair. Therefore, it is essential to create and absorb moisture in the strands. If your hair feels dry, you can use shea butter or natural oil facial mask to help moisten the kinky straight bundle.
3. Don't wash the kinky straight hair wig every day.
If you wash it too many times, it will dry. In fact, some people don't need to wash their hair, or just occasionally. I recommend doing deep maintenance once a week.
4. Wisely choose a shampoo that is right for kinky straight hair
Use a mild shampoo or low-foam cleansing conditioner to freshen your hair and scalp without taking too much of the natural moisture and grease.
5. Use the right hair care products
Utilize only hair care items made for human wigs. Use something other than the typical pharmacy hair care items. They have chemicals in them that make wigs last less time. To keep your hair straight and kinky, invest in high-quality products.
6. Avoid heat setting tools
Hairdryers, irons, curling irons-all these hot tools can cause our kinky straight wigs to break, so try not to use the heat-setting tool, if you need to use, be sure to use the lowest gear, it is best to use the corresponding heat-setting tool.
7. Use natural oil and light essence spray
Natural essential oils or a small amount of essential oil spray can help your kinky hair wrinkle and smooth. But be sure to use a small amount of oil (about the size of a dime) because too much oil will make your hair heavier!
8. Trim your hair
Kinky straight hair needs to be trimmed just as much as silk straight hair, because kinky straight hair dries more easily, especially at the ends, because it gets tangled more easily and breaks more easily.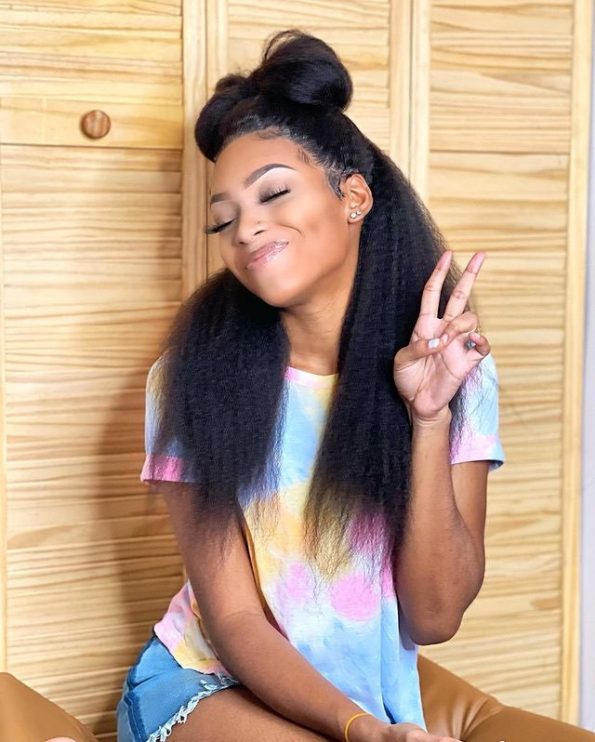 Kinky straight hair care tips:
Avoid the kinky of straight hair in direct sunlight, because the kinky of straight hair will fade in the sun.
Don't wear a wig when you sleep, because it may lead to hair loss, fracture and tangles.
Avoid contact with chlorinated water, seawater and hot water, so as not to damage the kinky of straight hair.